The book, ESG Ratings for China's Urban Development, co-authored by Professor Tzu-Kuan Chiu, a professor at SAIF, has garnered significant attention from the academic community due to its innovative approach in integrating the UN Sustainable Development Issue with China's modernization development goal. As a result, the book offers an international perspective combined with Chinese practice.
Together with Professor Bohui Zhang, Executive Dean of the School of Management and Economics at CUHK-Shenzhen, and Haifeng Wu, a researcher at the Shenzhen Finance Institute and Director of the Research Center of the Shenzhen Institute of Data Economy at CUHK-Shenzhen, nearly 40 participants from SAIF and SFI contributed to data collection.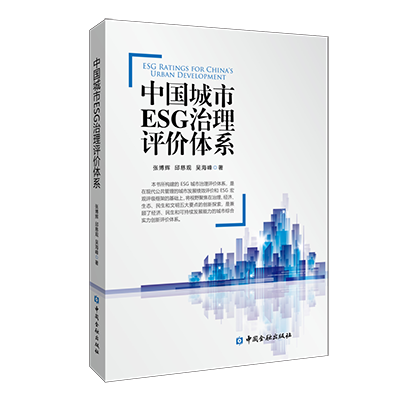 ESG Ratings for China's Urban Development focuses on the macro ESG governance evaluation system of Chinese cities, utilizing three levels and more than 120 indicators in total. By examining the 17 SDGs in the UN 2030 Agenda for Sustainable Development and the Chinese Modernization Development Goal of the 14th Five-Year Plan, the book conducts research on 39 key Chinese cities, including municipalities directly under the Central Government, sub-provincial cities, and provincial capitals from five dimensions, namely: urban governance, economic development, eco-environment, people's well-being, and cultural-ethical standards.
The book allows for a scientific, objective, and quantitative assessment of the comprehensive strengths of China's major cities concerning economy, livelihood, and sustainable development capability. Policymakers can use this information to make more informed governance decisions, and the book can also serve as a practical reference for urban development policy formulation. Furthermore, it provides empirical research samples for better macro-ESG governance in the future, making it a valuable tool for domestic and international sustainable development theories.
The uniqueness of this book lies in its combination of international sustainable development trends with Chinese developmental goals, all while examining China's major cities. This book sets itself apart by being the first of its kind, as few studies have conducted ESG governance ratings at the city level. As Professor Tzu-Kuan Chiu commented, "By launching this ESG governance evaluation system, we hope to provide effective references for governments and think tanks in their governance decisions on high-quality development, and to provide empirical analysis tools for future domestic and international sustainable development theories." Overall, ESG Ratings for China's Urban Development represents a significant contribution to the discourse on sustainable development in China's major cities.