SAIF Fund Categories
SAIF Development Fund

SAIF Faculty Fund

SAIF Research Fund

SAIF Research Fund

SAIF Scholarship Fund

SAIF Talent Cultivation Fund

SAIF Student Development Fund

Alumni Association Development Fund

Other Funds
Ways to Support

Bank Remittance
The donation can be remitted to the account below. Please specify the beneficiary as "Shanghai Advanced Institute of Finance, Shanghai Jiao Tong University".
Bank account: The Education Development Foundation of Shanghai Jiao Tong University A/C No.: 212882589810001 Bank: China Merchants Bank, Shanghai Branch, Xujiahui Office

Mobile Payment
The donation can be made by scanning the QR code below.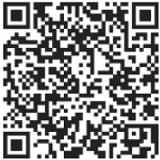 If the donation amounts to RMB10, 000 or higher, please contact us in advance.
Development and External Relations Dept
Telephone: 021-6293 2940 or 021-6293 2959
Email: der@saif.sjtu.edu.cn
Address: 8/F., 211, West Huaihai Road, Xuhui District, Shanghai 200030, PR China