Recently, Professor Jun Pan (Chair Professor at SAIF) joined the Review of Finance (a leading international journal in the field of finance) as the journal editor for a three-year term starting in January 2022.
The Review of Finance (RF), founded by the European Finance Association (EFA), is a renowned global journal that publishes the most cutting-edge and influential academic financial research. It is also the only top international journal that places China's finance at the same level of significance as world finance. As China's influence on the world economy and finance grows, the RF made an important strategic decision — to enhance its research focus on China's financial markets. This coincided with Professor Jun Pan's main research after she resigned from MIT and returned to China in 2019. RF provided a great avenue for the frontier academic financial research in China to spread around the world and it also creates a window for the world to better understand China's economy and finance.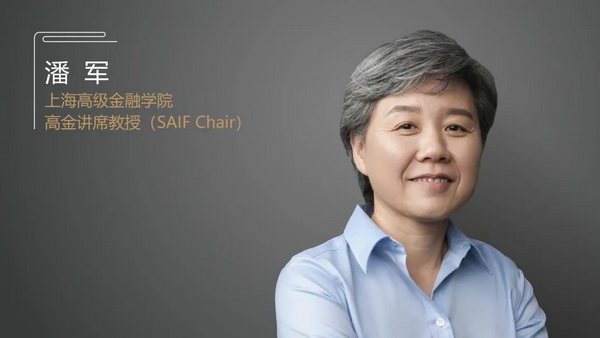 After returning to China, Professor Jun Pan focused her research upon finance in China, including Fintech, and China's debenture market. She finished many papers, in collaboration with her Ph.D. students and young professors at SAIF. It was because of Professor Pan's strong academic research reputation and her continuous voice for China's finance on the world stage that she stood out in this global selection of journal editors.
Professor Pan has always attached great importance to the research on China's economy and finance. She hoped to take this opportunity to increase the voice of Chinese scholars on the international stage — enabling more overseas scholars to gain access to research on China's economy and finance.
Prior to joining SAIF in 2019, Professor Jun Pan was the School of Management Distinguished Professor of Finance and Professor of Finance at the MIT Sloan School of Management, and she was also a research associate at the National Bureau of Economic Research. Her work has appeared in Econometrica, Journal of Finance,Review of Financial Studies,Journal of Financial Economics, among other leading academic journals and she once worked as the subeditor at the Review of Finance.
She has also won many honors and achievements, including: Best Paper at the China International Conference in Finance (2021), The Stephen A. Ross Prize in Financial Economics (2015), First Prize in the Chicago Quantitative Alliance Annual Academic Competition (2003), the Distinguished Alumni Award at Western Illinois University (2001), the Lieberman Fellowship at Stanford University (1998-99), the Jaedicke Award Scholar at Stanford University (1996-97), and the Luise Meyer-Schutzmeister Award for American Women in Science (1995).