On September 14th, the Shanghai Advanced Institute of Finance (SAIF) at Shanghai Jiao Tong University (SJTU) awarded the titles of SAIF Chair Professor and Huifu Chair Professor to Professors Jun Pan and Chun Chang, respectively. This marks the inauguration of SAIF's chair professor mechanism.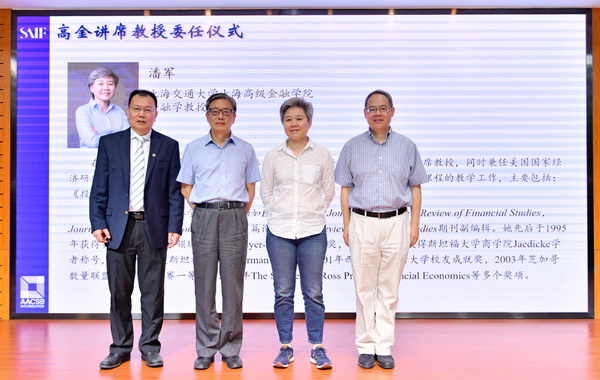 One of the first distinguished professors at SAIF's inception in 2009, and holding both a Ph.D. in Finance from Stanford University and a Ph.D. in Physics from New York University, Professor Jun Pan joined SAIF on a full-time basis in 2019. Prior to SAIF, Professor Pan taught at the Massachusetts Institute of Technology (MIT) for nearly two decades and was awarded tenured professorship. She was also granted the MIT Chair Professorship for her outstanding research in the field of finance.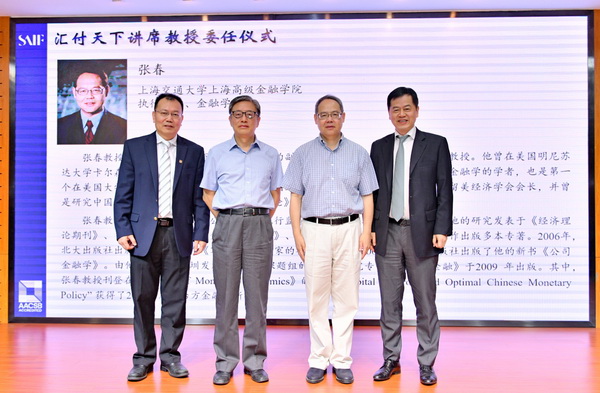 One of the first Mainland China scholars to teach finance in a world-class business school in the United States, Professor Chun Chang served as Professor of Finance at the Carlson School of Management at the University of Minnesota for 17 years. He is also the first Chinese scholar in finance to give up a tenured professorship in the United States and return to China on a full-time basis. Professor Chang has outstanding research achievements in corporate finance and macro-finance, lately as evidenced by his winning the Sun Yefang Financial Innovation Award. In the past decade, Professor Chang, as Executive Dean of SAIF, made remarkable contributions to SAIF's development.

A chair professor mechanism is a way for world-class universities and colleges to attract talent and build up core academic and research frameworks. A chair professor title is regarded as the top honor of the teaching pyramid. Among world elite universities, scholars who have received a title of chair professor are all distinguished professors in their respective fields. In general, chair professor seats are closely related to public donations. The model of "chair donation fund", combining the chair professor system with public donations and modern fund management systems, has become an effective means for attracting public resources, retaining first-class scholars, consolidating academic strengths, and improving teaching quality and social influence.
The chair professor system implemented by SAIF also follows this model. The SAIF Chair Professor Fund was established with the help of donations from several companies and alumni; the Huifu Chair Professor Fund was set up by and named after Huifu Co., Ltd., a company founded by Dr. Ye Zhou, one of the first graduates of the SAIF GES Program. The full amount of the investment proceeds of both funds will be dedicated to, and subsidize the compensation and research expenditures of, chair professors. This will provide a more stable funding guarantee for outstanding scholars to pursue long-term and important research topics. The SAIF Faculty Management and Remuneration Committee is responsible for selecting and deciding upon candidates for chair professorships, approving budgets, management, and auditing use of the fund.
Professor Hong Yan, Professor of Finance and Deputy Dean of SAIF, commented:
"For SAIF, to build a world-class financial school, it must have a strong faculty team with an international perspective and world-class standards. The establishment of the chair professor funds and the implementation of the chair professor mechanism is to set benchmarks in the faculty team and recognize outstanding professors for their extraordinary achievements in academic research and talent training. We hope that in the future, we will continue to attract top-notch and world-renowned experts and scholars in economics, finance and management at home and abroad to join SAIF and further expand SAIF's international faculty team."