From July 10th to 11th, 2023, the 6th SAIF-CAFR Financial Research Summer Camp took place at the SAIF Xuhui Campus. This notable event was jointly organized by SAIF (Shanghai Advanced Institute of Finance) and CAFR (China Academy of Financial Research).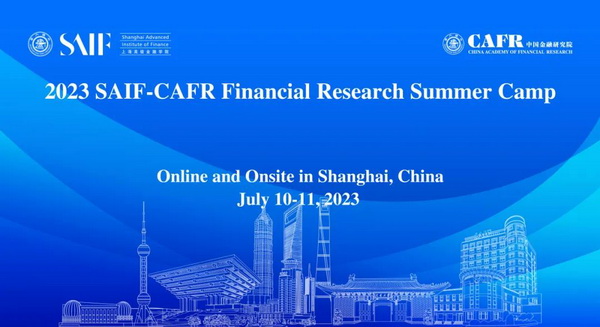 The primary purpose of the SAIF-CAFR Financial Research Summer Camp is to offer a platform for emerging scholars and Ph.D. students, both from China and abroad, to delve into the cutting-edge realm of academic research in finance. By equipping participants with innovative research methodologies and fresh perspectives, the camp aims to ignite their passion and inspire their future academic careers. Furthermore, it seeks to contribute to the growth of research and teaching quality in the finance field within China.
Professor Hong Yan, Deputy Dean of Academic Affairs and Faculty and Professor of Finance at SAIF, commenced the camp with a warm welcome speech. He commended the participants for their unwavering enthusiasm towards financial academic research and introduced the esteemed teaching faculty of the camp. Professor Yan emphasized that the camp facilitates a deeper understanding of academic frontiers and fosters the development of innovative ideas.
The Summer Camp featured lectures delivered by three renowned finance scholars. In the order of teaching, they are: Professor Zhichao Yuan, Special-Term Professor at SAIF and Professor of Finance at the London School of Economics and Political Science; Professor Neng Wang, Visiting Professor of Finance at CKGSB and Tenured Chair Professor of Finance at Columbia Business School; and Professor Huibing Zhang, Special-Term Professor at SAIF and Professor of Finance at the Jindal School of Management, University of Texas at Dallas. The topics covered were "Market-based Financial Intermediation," "Dynamic Corporate Finance and Valuation," and "Neglected Risks in Securitized Asset Market."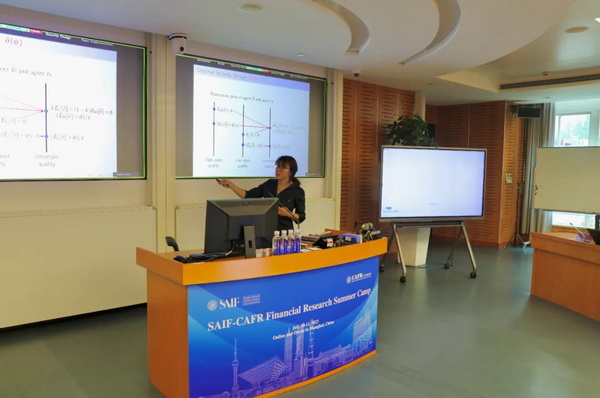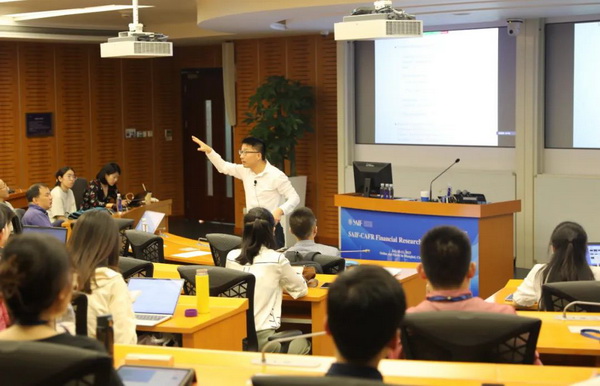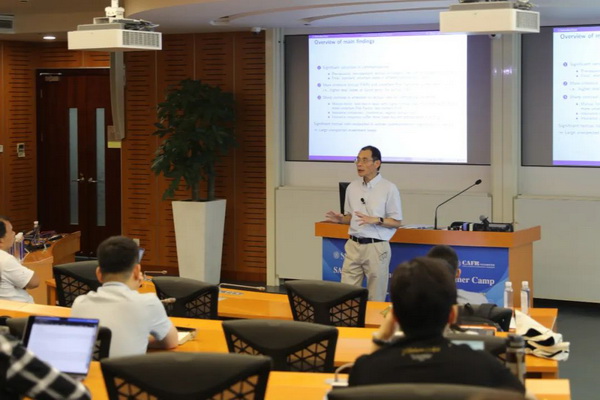 The summer camp garnered significant academic attention, attracting financial scholars from both domestic and international backgrounds. Eventually, a total of 65 participants attended in person, while an additional 157 individuals joined remotely online. Among the participants were professors, Ph.D. students, and researchers from prestigious universities, both within China and beyond. Notably, approximately 20% of the applicants originated from the Asia Pacific, Europe, America, and Oceania regions. Throughout the camp, participants engaged in thorough discussions with the professors and expressed their expectations for future iterations of the Financial Research Summer Camp program.