The 13th Summer Institute of Finance Conference (SIF) took place on July 12th – 13th, 2023, organized by the Shanghai Advanced Institute of Finance (SAIF) and the China Academy of Financial Research (CAFR) at Shanghai Jiao Tong University (SJTU). This year, the SIF conference adopted a combined online and on-site format in Shanghai. Distinguished scholars, professors, and researchers from top universities and financial institutions worldwide convened to explore the latest developments in financial research.
The SIF was chaired by Professor Yongxiang Wang (Professor of Finance at SAIF). Notable participants included Professors Nengjiu Ju (Professor of Finance, Academic Director of the Ph.D. Program at SAIF); Professor Huibing Zhang (Special-Term Professor at SAIF, Professor of Finance at Jindal School of Management, University of Texas at Dallas); Professor Jun Liu (Visiting Research Professor of Finance at SAIF, Professor of Finance at the Rady School of Management, University of California at San Diego); Professor Zhipeng Yan (Professor at SAIF); and Professor Junxiong Gao (Assistant Professor of Finance at SAIF).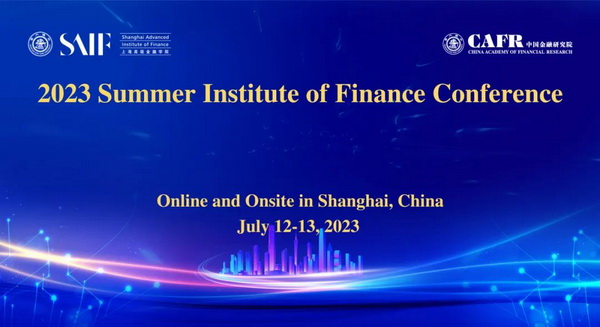 This year saw a remarkable surge in submissions to the SIF, with a total of 841 valid academic papers received from around the globe. After rigorous evaluation by the Paper Review Committee, 12 papers were selected for presentation in six distinct academic sessions. The research topics covered a wide range of cutting-edge themes, including "Financial Innovation and Private Equity," "Macro Policy, Intermediary and Stock Market," "Fintech," "Macro and Asset Prices," "The Value of Intangible Capital," and "Return Predictability." The selected papers explored issues such as speculative financial innovation, portfolio management in private equity, co-movements in global markets, and the role of the U.S. Treasury.
Prominent academics and Ph.D. students from prestigious institutions both in China and abroad participated in reading and reviewing the papers during the conference. Among the attendees were representatives from esteemed universities such as: University of British Columbia, University of North Carolina at Chapel Hill, University of Southern California, University of Chicago, Stanford University, University of Connecticut, University of Florida, University of California at Los Angeles, Columbia University, University of Texas at Austin, University of Minnesota-Twin Cities, University of Michigan, Boston University, Texas A&M University, the Swiss Finance Institute, and other renowned European and American institutions. In addition, scholars and students from institutions like Cheung Kong Graduate School of Business, Tsinghua University, Zhejiang University, the Chinese University of Hong Kong, and the University of Hong Kong actively participated.
During the conference, a lively Q&A session provided an opportunity for scholars and professors to offer comments and engage in discussion with the presenters and reviewers of the papers. The open and professional academic environment at the SIF nurtured a spirit of inspiration and mutual benefit for scholars seeking to enhance their ongoing research endeavours.