On September 1st, the 2022 SAIF Wealth Management Industry Summit and the new Release of "The Report on China Residents' Investment and Financial Management Behavior" (the Report) was held online. Professor Guangshao Tu (Member of the CPPCC, Executive Director of the SAIF Board) delivered a speech. Professor Fei Wu (Professor at SAIF) gave his analysis of the Report. Wenqiao Chang (Deputy General Manager of Puyin Wealth Management), Wenjia Lu (Deputy General Manager of the Fullgoal Fund), Lefeng Zhou (President of Xiangcai Securities), and Zhenhua Li (President of Ant Group Research Institute) had a discussion on the theme of "How can the wealth management industry improve residents' sense of fulfillment under the current situation?".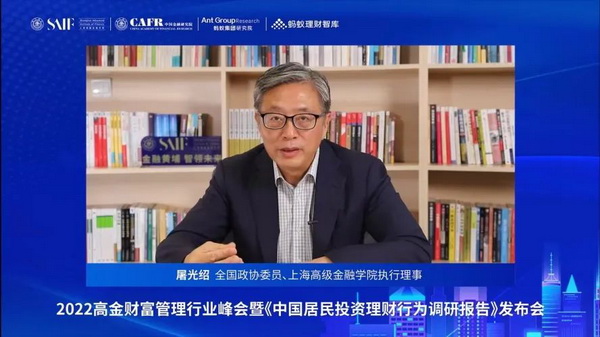 In his opening speech, Guangshao Tu pointed out that the purpose of researching residents' investment and financial behavior is to better promote the healthy and sustainable development of the residents' investment and the financial market. He said that a positive interaction between residents' behavior and the market could improve the service capacity of the investment and financial industry, accelerate the construction of the financial market, and regulate the investment and financial market. SAIF and Ant Group Research Institute could further exert their advantages for long-term sustainable research. He also expected an effective cooperative research mechanism, an open research ecology, and scientific research methods to promote the research to be developed.
To study the current situation of China residents' investment and financial management, SAIF together with Ant Group Research Institute and Ant Wealth Management Think Tank launched a questionnaire survey in 2021 and released a related report.
The 2022 Report found that in terms of residents' financial health, the proportion of residents with household reserves increased to 73% from 72% last year, showing a steady increase in risk management awareness. Bank deposits, public funds, and bonds are the three assets with the highest percentage of residents' investments in 2022. Among them, the proportion of bond asset allocation is 21%, increasing by 6% (from 15% in the previous year), replacing stocks as one of the top three assets allocated by residents in 2022.
The Report found that the awareness of China residents for long-term investment has increased compared to the previous year. The proportion of users who are willing to hold for less than one year has dropped significantly, from 72% last year to 65% this year. Meanwhile, residents' tolerance for loss time of financial products has risen. Taking equity funds as an example, the proportion increased to 23% from 14% last year.
In addition, residents are more rational in choosing financial products. The Report shows that investors' preference for famous fund managers has dropped significantly, from 24% last year to 14%. Investors' preference toward a fund's historical returns also declined, from 56% to 53%. Investors' concern about channel recommendations, length of closed periods, and charges have increased. Related to last year's volatile market conditions, investors are now more sensitive to professional investment advisors, liquidity, and costs.
Professionalization is the key to achieving long-term investment and enhancing residents' investment and financial experience. Beyond improving residents' financial literacy, it is important for them to have access to professional services, such as buy-side investment advisory services. Research shows that 28% of investors would increase their willingness to invest for the long term due to investment advisory services, while half knew little about fund investment advisory services. Research results show that China is still in the initial stage of professional investment advisement.
Professor Fei Wu said that the continuous release of the Report allows us to observe the changes in China residents' investment and financial behavior, and seek reasons. It provides a rational analysis perspective for residents to scientifically allocate investment and financial products. It also provides a reference for wealth management institutions to develop their personal and family investment business.