On July 6th – 8th, the 19th China International Conference in Finance (CICF) was successfully held. Due to the COVID-19 pandemic, the CICF conference was held online. According to statistics, this year's number of registered attendees reached a record high of 1,313.
CICF was founded in 2002 by the Sloan School of Management at the Massachusetts Institute of Technology. This year's CICF was hosted by SAIF.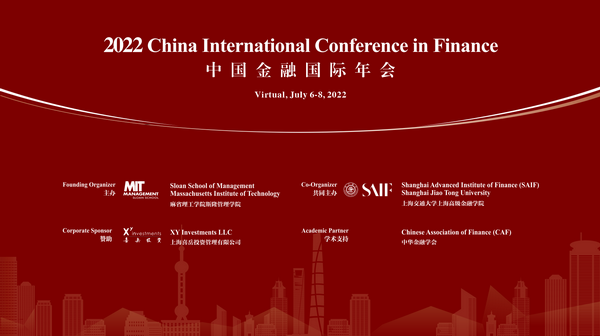 Professor Jiang Wang (Chair Professor in Management at MIT Sloan School, Senior Advisory Visiting Professor, Chair of Academic Council at SAIF) chaired the conference. Professor Zhiguo He (Fuji Bank and Heller Chair Professor in Finance at the University of Chicago, Booth School of Business) chaired the paper review committee, and Professor Kewei Hou (Ric Dillon Chair Professor in Investment at Ohio State University, Fisher College of Business) co-chaired the Paper Review Committee. Professor Shijun Cheng (Executive Dean, Professor of Accounting at SAIF) attended the conference and delivered a speech.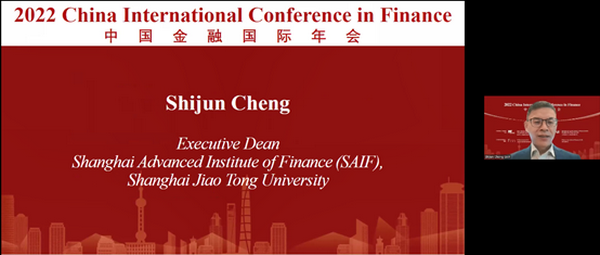 Professor Lars Peter Hansen gave a keynote speech entitled "How Should Climate Change Uncertainty Impact Social Valuation". He is the David Rockefeller Distinguished Service Professor at the Booth School of Business at the University of Chicago and is the winner of the 2013 Sveriges Riksbank Prize in Economic Sciences in Memory of Alfred Nobel.

This year, 1,644 valid submitted papers were received from 2,660 participants, and a total of 280 papers were selected. The authors of the selected papers are mostly professors and PhD students from major business schools around the world. Researchers from various financial institutions and regulatory authorities were also included.
The conference lasted for three days and featured 70 sessions, during which 37 of the 280 papers presented and reviewed focused on China's financial markets. They provided a unique perspective on the opportunities and challenges of China's financial development.
In this year's CICF, SAIF showed its outstanding academic influence with a large number of papers by its own faculty and Ph.D. students being admitted. In addition, multiple SAIF professors chaired different sessions or reviewed the papers at CICF.
Reviewed by the Best Paper Review Committee, seven papers were awarded the CICF Best Paper Award, Xia Yihong Best Paper Award, and Xiyue Best Paper Award (respectively). A full list of the awards is as follows.
CICF Best Paper Award:
"Creating Controversy in Proxy Voting Advice" co-authored by Andrey Malenko, Nadya Malenko, and Chester Spatt
"Hot Off the Press: News-implied Sovereign Default Risk" co-authored by Chukwuma Dim, Kevin Koerner, Marcin Wolski, and Sanne Zwart
"Sustainability or Performance? Ratings and Fund Managers' Incentives" co-authored by Nickolay Gantchev, Mariassunta Giannetti, and Rachel Li
Xia Yihong Best Paper Award:
"Debt Maturity Management" co-authored by Yunzhi Hu, Felipe Varas, and Chao Ying
"Do Preemptive Rights Effectively Protect Minority Shareholders? Evidence from Chinese Listed Firms" authored by Zhongzhi Song
Xiyue Best Paper Award:
"Extrapolative Market Participation" co-authored by Wanbin Pan, Zhiwei Su, Huijun Wang, and Jianfeng Yu
"Do Mutual Funds Walk the Talk? A Textual Analysis of Risk Disclosure by Mutual Funds" co-authored by Jinfei Sheng, Nan Xu, Xian Gu, and Lu Zheng