On July 9th to 10th, 2022, the Fifth SAIF-CAFR Financial Research Summer Camp was held online by SAIF and CAFR. Designed for emerging scholars in China and beyond, the SAIF-CAFR Financial Research Summer Camp introduces participants to the frontiers of academic research in finance. It provides them with cutting-edge research methodologies and fresh perspectives, intending to inspire their future academic careers. As a further consequence, the overall quality of research and teaching in finance in China is enhanced as well.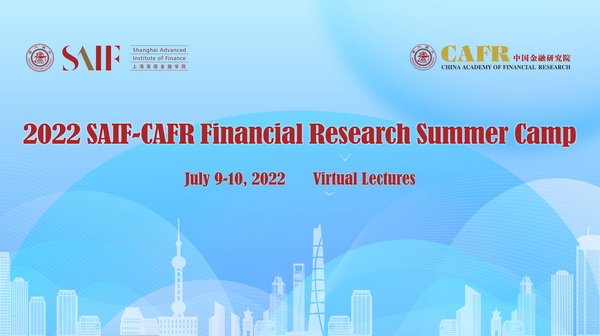 This year's Summer Camp consisted of lectures given by three renowned finance scholars. Listed in first name alphabetical order, they are: Professor Gordon Phillips (Laurence F. Whittemore Professor of Business Administration, Tuck School of Business), Professor Mariassunta Giannetti (Professor of Finance, Stockholm School of Economics), Professor Xiaoyun Yu (Professor of Finance at SAIF).
This year's Summer camp program has received a lot of attention, with a total of over 200 applicants, including professors, PhD students and researchers from both domestic and international universities. Nearly 30% of the applicants were from the Asia Pacific, Europe, America and Oceania regions outside of China, which was an increase of 10% compared to last year.
In the beginning, Professor Hong Yan (Deputy Dean for Faculty and Research, Director of China Hedge Fund Research Center, Academic Director of the Global Executive Scholars Program [GES], Professor of Finance at SAIF) gave a welcome speech. He pointed out that the SAIF-CAFR Financial Research Summer Camp improves the academic ability and research quality of participants, and promotes financial pedagogy in China.
Professor Gordon Phillips's lecture focused on "Computational Linguistics, Big Data and Finance". It introduced the growing use of computational linguistics to analyze big data and text, as applied to both corporate finance and asset pricing.
Professor Mariassunta Giannetti gave a lecture on "Trade Credit and Supply Chains". She reviewed empirical and theoretical work on trade credit, how trade credit contributes to the transmission of monetary policy, and the role of trade credit in fostering the stability of supply chains. She also introduced a new measure for supply chain risk and its effects on the composition of supply chains and industrial structure.
Professor Xiaoyun Yu gave a lecture on "Corporate Governance and Financial Misconduct". The lecture provided a brief introduction to recent progress on corporate governance, with an emphasis on securities fraud. She also went over some theoretical models and reviewed empirical evidence on: (1) determinants and detection of financial misconduct, (2) social and financial market consequences, and (3) corporate governance issues related to fraud and beyond.