From November 15th to November 19th, the Jiangbei New Area New Finance Advanced Workshop was held in Nanjing Jiangbei New Area. The workshop was jointly launched by the SAIF Fintech Innovation Base (Nanjing Jiangbei New Area Campus), the Party-Masses Department, and the CBD Construction and Management Office at Jiangbei New Area. It was aimed at strengthening fintech talent in the Nanjing Jiangbei New Area and helping build a new, first-class finance center in China.
On November 15th, the opening ceremony was held and was presided over by Professor Jie Hu (Professor of Practice, Director of Fintech Innovation Base at SAIF Jiangbei New Area Campus). Qun Luo (Deputy Secretary of the Party Working Committee of Jiangbei New Area), Zhong Wang (Deputy Dean at SAIF), Guanghui Chen (Director of the Comprehensive Management of Administration Committee at Jiangbei New Area), Xiaorong Wang (Director of the Party-Masses Department at Jiangbei New Area), and Jianpeng Chen (Secretary of Jiangbei CBD Party Working Committee) were also present.
Qun Luo delivered a speech at the opening ceremony on behalf of the Jiangbei New Area. He said that new finance in the Jiangbei New Area had been groundbreaking in the past few years, forming a new finance system with fintech, digital finance, free trade finance, green finance, and inclusive finance as its core. This workshop aimed to develop the finance acumen of officials in the Jiangbei New Area, in order to improve their capabilities for enterprises in the chip, gene, and new finance industries. He hoped it would help create a beneficial development environment — with active innovation and entrepreneurship favored by capital markets.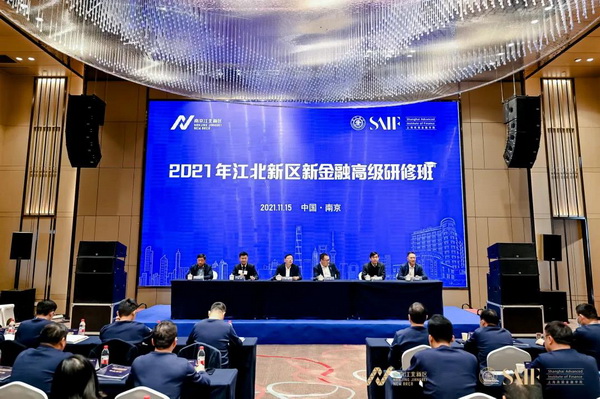 Zhong Wang pointed out in his speech that since the establishment of the SAIF Financial Technology Innovation Base (at the Nanjing Jiangbei New Area Campus) in the CBD in 2020 by SAIF and the Jiangbei New Area Administration Committee, the two sides had achieved a series of remarkable achievements through the deep cooperation. SAIF has top-class faculty in China, Asia, and worldwide which provide innovative ideas, solutions, products, and technologies to aid in the development of China's modern finance market. He also mentioned that SAIF was willing to expand its cooperation with the Jiangbei New Area to support and participate in the economic development of the Jiangbei New Area, in all aspects.
During the opening ceremony, Professor Jie Hu introduced the course system and learning methods to all the participants and encouraged them to study hard. He hoped that participants would use their earned knowledge in their future work.
The 5-day workshop was held in a combined online and on-site format, and the participants were excellent front-line representatives from various organs, units, and enterprises recommended by the Party-Masses Department of the Jiangbei New Area, with a total of 45 participants. The course given by SAIF professors and industry experts combined theoretical and practical lectures together. It introduced leading international financial research concepts and models from the most pioneering perspectives, and analyzed relevant policies and applied theories on China's financial reform and development.
The courses of this workshop effectively integrate international and local, historical and modern issues, showing profundity, thoughtfulness, and cultural sensitivity. The courses include: "Principles of Finance and Financial Systems in China and Beyond", "Fintech and Innovation", and "Blockchain Principles and Applications" by Professor Jie Hu; "Green Finance" by Professor Tzu-Kuan CHIU; "Multi-level Capital Market Construction" by Professor Hong Yan; "Fintech: Development Trends and Shanghai Practices" by Professor Feng Li; "Global Economic and Financial Changes and China's Countermeasures under the Great Change" by Professor Chun Chang; and "Financial Regulations and Supervision in China" by Professor Duoqi Xu. Through masterful teaching in different styles, their conveyed professional knowledge and colorful experiences had a strong impact upon every participant.
To deepen understanding, and better interact with professors and peers, a discussion session was set into each course. Participants conveyed that they had benefited from this workshop and would apply financial knowledge gained to further promote financial development for the Nanjing Jiangbei New Area.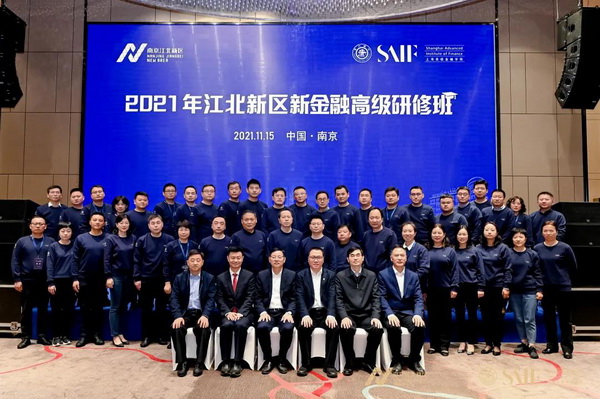 On November 19th, the closing ceremony was held. Professor Zhong Wang delivered an online speech. He expressed his sincere respect to the leaders of the Jiangbei New Area who have been supporting SAIF, congratulated the participants, and expressed his gratitude to all the staff. He emphasized that this workshop was an expansion of the cooperation between SAIF and the Jiangbei New Area in order to build a new series of brand activities for "Yangtze River New Finance". SAIF would cooperate closely with the Jiangbei New Area in multiple dimensions to cultivate talent in the finance field. In the future, with the development of regional construction and industrial development reforms, SAIF would also use its resource channels to support economic and social development for the Nanjing Jiangbei New Area.