Nan Du, an SAIF MF graduate about to step into the field of private equity investment, is like a ray of colorful sunshine around you. His versatility and positive energy demonstrates that the so-called 'rational financial man' can be warm, endearing and energetic.
Brief Introduction of Nan Du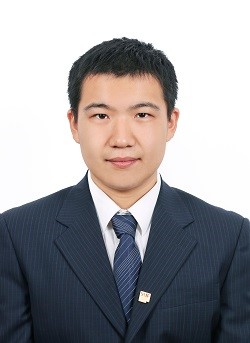 Undergraduate: Mathematical Physics
Master's: SAIF MF
The next step: Private equity fund
I was attracted to SAIF by its humanistic atmosphere
The holder of an undergraduate degree in Mathematical Physics, Nan Du learned from Michael Powers when he was younger. From then on, he started to study economics and finance; his graduation thesis The Rules of Testing the Square Root of Reinsurance was published in the magazine Asia-Pacific Journal of Risk and Insurance.
Nan Du published a thesis when he was an undergraduate. He attributes this to his clear target and step by step consideration, which shows his rationality and calmness as a student majoring in science.
Because of his clear target and rational judgment, Nan Du resolutely chose SAIF when facing a postgraduate recommendation program. "Since I wanted to learn finance, I wanted to go to the best place for financial development," he said. "The best place for financial development is Shanghai and the best institute for MF is SAIF. In fact, another important point to mention is SAIF's humanistic atmosphere, which especially attracted me and accorded with my dreams."
"My memories of the SAIF MF Summer Camp are still fresh. It isn't a formal interview in which you're enrolled when your scores and resume have been examined. Rather, it pays great attention to our comprehensive abilities, concerns, demands, attitudes and emotions. In the daytime, there are rich lectures and group activities such as visiting the Shanghai Stock Exchange and the Securities Museum; in the evening, there are literature and art exchange activities, etc. Although the summer camp only lasted for four days, the design of showing both modern finance and human history and the way the teachers had of observing and assessing the students' abilities through the activities themselves made me feel natural and comfortable."
In his two years in the SAIF MF Program, Nan Du deeply felt the considerate care that is close to our students' needs. Several days after admission, the CDC (Career Development Center) held a series of lectures on career development for first-year graduate students. After that, the mentors conducted an individual interview with every student to get to know their personality traits, hobbies, future goals and so on. They used the students' admission resumes to instruct them on how to modify them, what they lack, what adjustments are needed to tailor them to specific industries, which steps need to be prepared and what is most urgently required at present. While helping the students improve their strengths, the mentors would also teach them how to highlight their own advantages so as to attract employers.
"The one-to-one instruction helps us to further clarify our career development goals and improve our employment success rate," he said. "As far as I know, among comparable institutes, SAIF is the only one capable of providing such considerate assistance and support."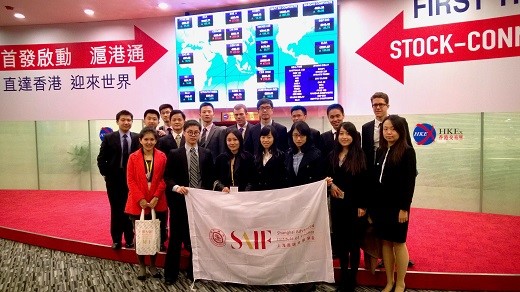 Nan Du (first on the left) with his classmates, participating in the SAIF MIM in Hong Kong earlier this year
Carrying a public welfare program has always been my dream
Born in an intellectual family, Nan Du has visited poverty-stricken areas and war-torn countries many times, in which he was deeply impressed by what he saw and heard. Influenced by his parents and the surrounding environment, he has been interested in social problems since he was young, always thinking about what he can do for society to make his life richer with greater value and meaning.
He was active in organizing and taking part in public welfare programs held by the practice team of the Department of Mathematics when he was an undergraduate. After joining SAIF, he further cultivated and strengthened his awareness of social responsibility by studying the program's Extended Learning and Student Activities (ELSA) and SAIF LIVE.
"The courses and activities developed by SAIF MF taught us lot, including how to combine financial knowledge and skills with practical business. This contributed to our improved understanding of public benefit and how to develop it more effectively."
Aside from taking internship at the Transit Labs, a social enterprise investment company established by his career mentor Ben Rudick, and taking part in early education programs for children and the microcredit schemes for rural workers, Nan Du also serves as a volunteer in such organizations as the Beijing Sun Village Children's Education & Consultancy Center and the Housing Base for Homeless Animals. To commend his contributions to social responsibility, SAIF MF awarded Nan Du the Leadership of Social Responsibility scholarship in 2014.
This year, Nan Du and four other MF students formed the teleStory Team to establish a platform called teleStory that delivers audiobooks daily to children in poverty-stricken areas through cloud communication technology. It records fairy tale audiobooks in many different languages in the cloud, then uses the telephone to remind the children to read and listen to the fairy tales, effectively solving the problems of parents who cannot enjoy the parent-child reading time together due to illiteracy or absence. This program has been carried out in experimental units in China and will be generalized to other countries including India.
The teleStory program stood out in the 2015 APAC Hult Prize Finals for its prominent creativity and feasibility, and successfully defeated 37 competitors from the University of Cambridge, the University of Pennsylvania and other famous universities to win the first prize. Next, the team will take part in the World Finals to be held at the New York Annual Meeting of the Clinton Global Initiative in this September, where they will to compete for the $1 million prize for practical originality in social enterprises.
"Actually, winning the prize is not our greatest concern," Nan Du said. "Of course, the prize will give us abundant funds with which to implement the program even better. But if we fail to win the prize, we'll carry on. For a public welfare program to endure, it must have the function of self-development and the ability to circulate constantly."
According to the plan, they will increase the number of users from 10,000 to 1,000,000 within 5 years in order to benefit a greater number of children in a wider range of areas. For that purpose, Nan Du and his partners have positively developed external public relations and publicity to attract support from far-sighted members of society. After being reported widely on social and public media, many warmhearted enterprises that value the promotion of public good came to their aid. Shanghai Ying Hua Fund provided RMB 300,000 as the start-up capital in the form of sponsorship and stock rights, and China Huamao Investment Co. Ltd. supplied 200 telephones for poor families that have no phones in their homes.
At the beginning of June, the teleStory team went to Dawu County, a poor county in Xiaogan, Hubei, to officially carry out the testing program. They chose more than 20 families as the first batch and plan to carry out the program in villages, towns and mountainous areas after one month of optimization and adjustment. In July and August, they will go to Boston, America to take part in the seven-week 'accelerator' for entrepreneurial firms offered by the Hult Prize Committee, and then they will go to India to carry out program tests. In September, they will fight for the global first place in the 2015 Hult Prize …
Facing a very tight calendar, Nan Du admitted that he can't always get everything done: "Although I've finished my schoolwork and papers, I have to work in my internship unit every day and be responsible for the management and operation of teleStory. A series of tasks including company registry, contacting sponsors and communicating with local education bureau makes me feel complex." He hopes to involve more volunteers so as to boost the program together.
At present, Nan Du is working as an intern at a foreign venture capital & private equity company in a primary market. Upon graduation, he will become a member of the company. "I've never thought about going to another company since I came here in 2014," he said, "because I'm certain that I want a job that suits my personality, is meaningful and produces value for society."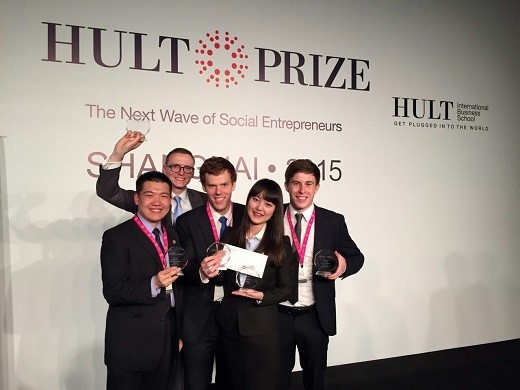 Nan Du with the teleStory Team that won the 2015 APAC Hult Prize
Nan Du believes that enough money is enough, and any more is just a waste. He also believes that the most important thing in life is what we should and can do for society:
"The private equity company I'm working for now also supports practical industry and helps start-ups through capital investment, which makes me feel very happy and meaningful," he said. "Many years in the future, maybe I will also engage in practical industry and run a company jointly established with a group of people who have warm and thoughtful hearts and want to use their power to contribute to the country and society."
Nan Du's daily life is also interesting and colorful. He loves the arts and has performed in many cross talks and dramas; he is good at reciting and hosting, which has won him many awards; he also enjoys playing table tennis, playing football, running marathons and much more…
Nan Du is painting the beautiful picture of his life with vibrant colours, and warming and inspiring the people around him.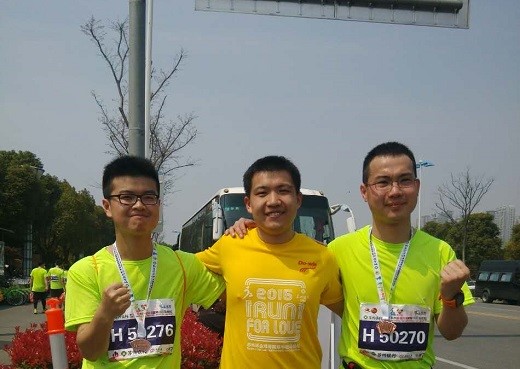 Nan Du (middle) takes part in a marathon with his classmates
Farewell words as a graduate
"Open your eyes and don't be blinded by the things before you or let them make you give up your principles and dreams. When you plan your life goals, you should look longer and further and combine your plans with your interests and personality. Don't just follow others or exert yourself to the utmost. What is right for you is the best." - Nan Du
About SAIF MF
The Master of Finance (MF) program has been the flagship program at SAIF since it first matriculated students in the fall of 2009. Our mission is to provide the best and brightest young individuals with the academic knowledge and professional skills needed to succeed in the global finance industry.
To achieve this mission, we provide students with a curriculum rooted in modern financial theory, that delivers sophisticated quantitative and analytical tools and imparts state-of-the-art practical knowledge and skills to meet the rigors of today's finance profession. Furthermore, the MF program is committed to fostering exceptional leadership and communication skills, the highest levels of professionalism, and an exemplary sense of social responsibility.
Official WeChat ID of SAIF MF: SAIF-MF