Title:Lecture of SAIF MF - Communication Skills in Interview
Time:Thu, 2014-09-11 07:36 - 07:36
On May 15, 2014, a lecture on communication skills and interview skills was carried out at the classroom of MF program, SAIF, Shanghai Jiao Tong University. The career lecturer Mr. Norman shared with the students on how to position yourself correctly in job hunting, how to effectively communicate with interviewers and display yourself in the interviews through vivid explanation.
Norman Yan, the lecturer, has worked in the financial industry in China, Asia and North America for over twenty years and had remarkable accomplishments. Now, he serves as the global CEO and director of Xinhua Index in FTSE (Financial Times and London Stock Exchange).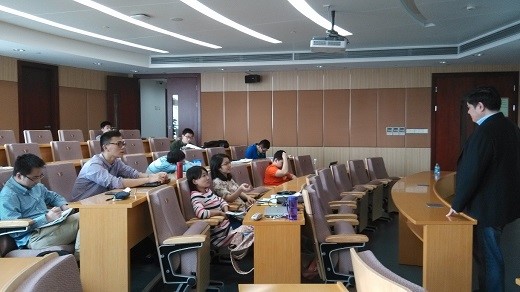 In the lecture, Mr. Norman explained to us that it's very important to clearly position yourself in the job hunting process. Before the interview, the interviewees shall try to collect the information related to the position, and know what kind of ability and knowledge are needed for such position, what your advantage and shortcoming are. In addition, in the interview process, the interviewee shall express his own understanding for the position to the interviewer. Other than boast, you shall express yourself comprehensively. The interviewer hopes interviewees to act appropriately to the situation. So you shall talk about what your core competitiveness for this position.
To let students better understand, Mr. Norman grouped the students on site and mutually discussed a common interview problem: Please describe an achievement you are proud of. Enlightened by him, the students on site carried out the heated discussion. He also invited a student to share his achievement with the audience, and analyzed how the student should combine the achievement and interviewed position starting from the position pursued by this student. The discussions and comments bring profound inspiration to students.
In the end, Mr. Norman invited students to participate in some interesting mini-games, making a profound impression to the students. Through the screen, he showed many pictures to students and asked the students to make the corresponding description. The students found what they saw was often different from the most direct actions and reality, and this also indicates that people's thoughts are limited, especially in facing the complicated problems, so they can't make the correct judgment. This also enlightens us that the simple principle shall be followed in communication with people as far as possible. The complicated problem is expressed simply, so that it can avoid misunderstanding, improving the communication efficiency.
Through lots of experience and skills shared by Mr. Norman with students, students had known how to better express and prove themselves in interview, to better give play to the knowledge and ability accumulated on ordinary days and to be recognized by the employer accordingly to pursue their own ideal careers.