Shanghai Advanced Institute of Finance (SAIF) recently published the employment report of its full-time Master of Finance (MF) and MBA graduates in 2016, which shows that both full-time MF and MBA graduates created new records of starting salary.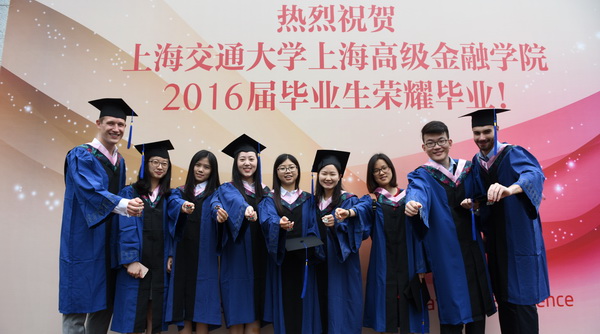 According to the report, the base salary of SAIF MFs reached RMB284,000 on average, with the median of RMB230,000, 25.4% and 27.8% higher than 2015 respectively, which represented historical highs. The highest starting salary was RMB680,000.
In terms of location, 15.8% of MF graduates joined financial institutions based in Germany, Canada and Hong Kong, while the rest concentrated on Tier 1 cities in China, including Shanghai, Beijing and Shenzhen.
On the other hand, the employers of SAIF MFs were mostly world-class and leading domestic financial institutions. Five graduates joined J.P. Morgan, Morgan Stanley and Bank of America Merrill Lynch and 3 served CICC. The other employers included Citic Securities, Tencent, Hony Capital, Bain, BCG, China Merchants Bank Headquarters, Haitong Securities, Fosun Group and other industry leaders.
As to industry distribution, more than 40% of SAIF MFs chose investment banking and VC & PE. Meanwhile, the top 4 job functions were investment banking (23.7%), investment management (21.1%), research (18.4%) and consulting (13.2).
For 2016 SAIF MBA graduates, the median starting salary was RMB250,000 and the mean hit a record high of RMB266,000, 25% and 26.6% higher than 2015 respectively. About 95% of the graduates were recruited by financial institutions, for investment management, research, investment banking and other key front-end functions. The employers included leading financial institutions in China, including DT Capital, China Renaissance, Ivy Capital, Ping An Asset Management, Delta Capital, Dingfeng Asset, Efunds, HFT Fund, Citic Securities, Huatai United Securities, Shenwan Hongyuan Securities and Tianfeng Securities.
Prof. Chang Chun, Executive Dean at SAIF, commented, "Today's economy faces a number of challenges. On one hand, the worldwide recovery is staggering. On the other hand, China's economy is under enormous growth pressure. However, even in such a context, SAIF graduates have successfully found high-level and quality jobs, and achieved continued breakthroughs, which further proves that SAIF's commitment to internationalization and specialization is widely recognized by the market."