The 9th Annual Conference of China Securitization Forum (CSF), a prominent yearly gathering for the domestic securitization market, took place in Beijing from April 27th to April 28th. This conference, jointly organized by SAIFR and CSF, served as a platform for experts and industry professionals in China to converge and deliberate on avenues for achieving high-quality development, economic recovery, and growth within the Chinese securitization industry. The event centered around the theme of "Confidence, Development," and drew the attention of a distinguished audience.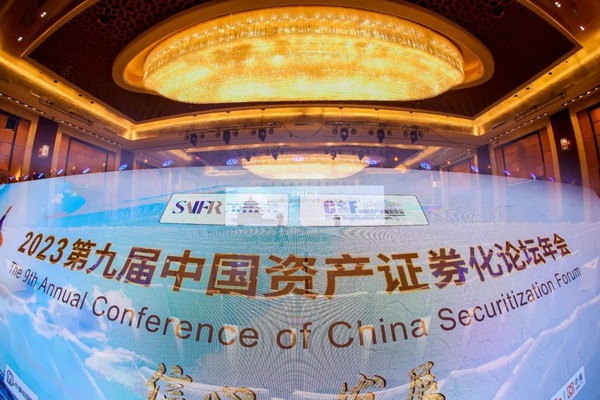 The Gala: Strategic Discourse on Asset Securitization Market
At the Gala, the CSF Council's four Co-Chairs, namely Guangshao Tu (Executive Director of SAIF), Jian Gao (Former Vice President of China Development Bank), Dingbang Liang (Former Chairman of the Hong Kong Securities and Futures Commission, Former Chief Advisor of the China Securities Regulatory Commission), and Xiaosu Meng (Expert Advisor of Asset Securitization Business Committee of China Securities Investment Fund Association), engaged in meaningful conversations and exchanged insights with representatives from various institutions. This gathering facilitated an in-depth exploration of strategic issues concerning the asset securitization market.
Guangshao Tu emphasized that the promotion of China's asset securitization aligns with the objectives of pursuing high-quality development, as evidenced by three key aspects. Firstly, it accords with the requirement articulated in the 20th National Congress to "improve the functioning of the capital market and increase the proportion of direct financing." Secondly, it responds to the growing demand for wealth management. Lastly, the development of Chinese asset securitization contributes to the enhancement of the Chinese financial system.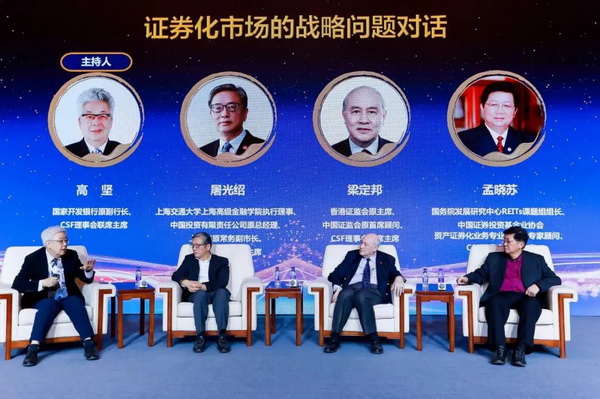 Keynote Speeches: Insights from Esteemed Speakers
The CSF invited several distinguished individuals to deliver keynote speeches at this year's conference. Among them were Min Zhu (Former Vice President of the People's Bank of China, Former Senior Vice President of the International Monetary Fund, Vice Chairman of the China Center for International Economic Exchanges), Xianglin Li (Professor of Practice at SAIF, Vice President of CAFR, Chairman of the CSF Executive Committee), Chunlei Chang (Deputy Director of the Market Innovation Department of the National Association of Financial Market Institutional Investors), Yanwei Chen (Deputy Director of the Bond Business Department of the Shanghai Stock Exchange), Xiufen Chang (Associate Convenor of Hong Kong Asia-Pacific Structured Finance Association, CSF Advisor), Qun Song (Chairman and CEO of Linklogis), and Dawei Deng (Vice President of CCXI, Chairman of CSF Rating Committee). Additionally, the conference featured four roundtable discussions, two special training sessions, and four institutional sessions, allowing for comprehensive exploration of pertinent topics.
Conclusion
The 9th Annual Conference of China Securitization Forum served as a pivotal event that facilitated insightful discussions among experts and industry leaders, all of whom gathered to deliberate on the trajectory of the Chinese securitization industry. With an unwavering focus on achieving high-quality development, economic recovery, and growth, the conference contributed significantly to advancing the understanding and practice of securitization in the Chinese market.