On April 25th, Shanghai Advanced Institute of Finance (SAIF) and Sina Finance, the leading financial information service provider in China, signed a strategic cooperation agreement. The agreement was based upon the principles of "Equal, Complementary, and Win-Win" and witnessed by Guangshao Tu, the Executive Director of SAIF, and Qingxu Deng, the CEO of Sina Finance.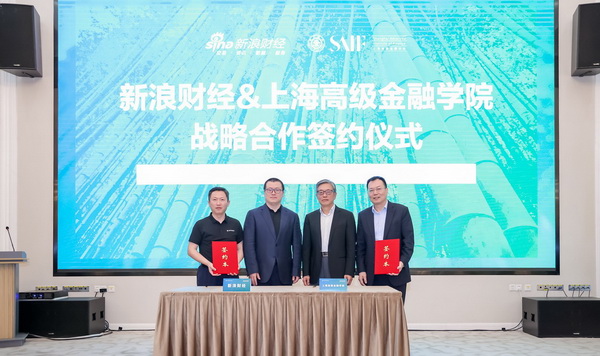 The agreement outlines that both SAIF and Sina Finance will leverage their respective strengths in academic research, market activities, and other aspects to promote resource-sharing and mutual benefit. Specifically, the two parties will foster in-depth cooperation in organizing the ESG Global Leader Summit, ESG-related events, and providing ESG industry training or related courses. Such collaborations will focus on ESG itself (Environmental, Social, and Governance).
The parties will engage in research cooperation aimed at promoting and practicing sustainable development, responsible investment, and ESG values. Through this, they will contribute to attainment of the sustainable development goals of the Chinese economy.
SAIF and Sina Finance believe that, as China's financial markets continue to develop and mature, the two parties will undertake related businesses like green finance, environmental protection, social responsibility, and corporate governance. They will collectively facilitate the sharing of green-related information, promote dialogue and exchange, and embrace mutually beneficial cooperation, which will promote harmonious development of the economy, society, and ecology.