Recently, SAIF released the Employment Report of the Full-time Financial MBA (FMBA) Graduates in 2021. The report showed that, the "Finance +" multidisciplinary FMBA graduates have been recognized and favored by the market. Nearly 80% of the graduates chose to work in the finance industry, and another 20% chose to join real enterprises or government/regulatory institutions. Their salaries and positions have significantly increased compared against those before enrollment. About 64% of the graduates have an annual starting salary of RMB 300,000 or more.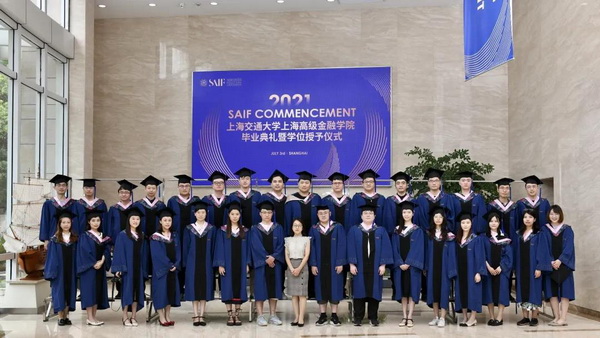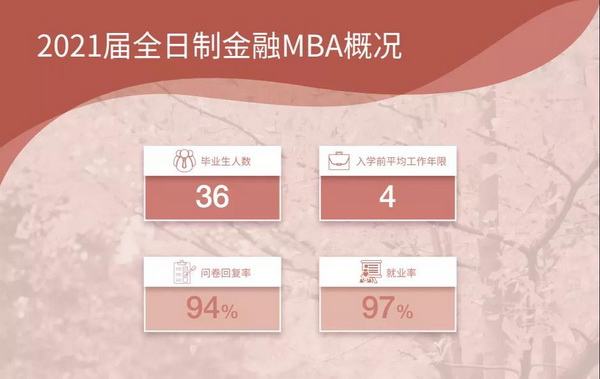 As China's first financial MBA program, the SAIF FMBA Program has been highly recognized by the industry for its world-leading financial education system and outstanding teaching. Graduates have continued to gain great favor from financial institutions and enterprises. This year, 36 FMBA graduates had an average starting salary of RMB 362,000 (up 25.8% and 49.9% over figures from 2020, and before enrollment, respectively), with the median being RMB 300,000 (an increase of 7.1% and 50% over figures from 2020, and before enrollment, respectively).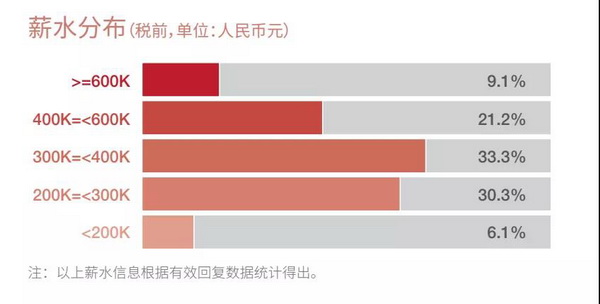 Aimed at fostering industry leaders with modern financial expertise, the SAIF FMBA Program is committed to training a community of financial talent with local influence and international competitiveness. Entrepreneurs and professional managers with an industry background, a financial mindset, and an innovative spirit are also welcomed to join. Statistics show that in this intake, before joining SAIF, 67.6% of the FMBA graduates came from the financial sector and 32.4% came from non-financial industries.
After two years of systematic education and training through the SAIF FMBA Program and guidance from the Career Development Center (CDC), their professionalism, skills, and global outlook have been strengthened. They have a clearer understanding of their ability and have the wherewithal to combine their interests and personal characteristics to find a more suitable career path for themselves. According to the recent statistics, 79.4% of this year's FMBA graduates preferred the finance industry and 14.7% were engaged in the technology and medical industries.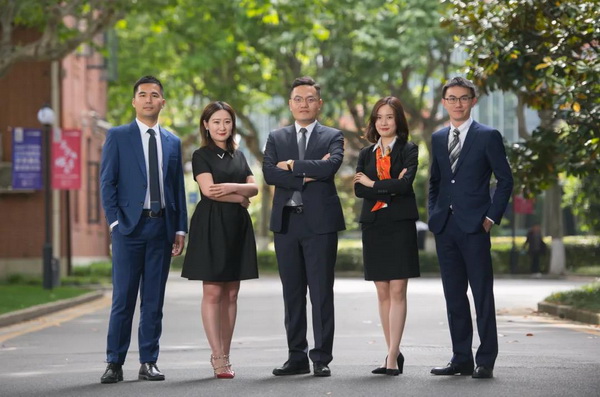 Compared to past years, this year's graduates chose to enter more diversified industries, with asset management and securities being the two main industries that attracted them — 38.2% of the students entered asset management institutions and 29.4% were engaged in brokerage firms. The employers included leading brokerage firms and well-known institutions in China, such as: China International Capital Corporation, Huatai United Securities, Guotai Junan Securities, China Renaissance, Yunqi Partners, and China Asset Management. Many graduates joined government-guided funds, industrial funds, and emerging technology enterprises, such as: Shanghai Pudong Technology Investment, Shanghai Semiconductor Equipment & Material Investment Management, Beijing Yuanxin Technology Group, and Kingstar. The Shanghai Stock Exchange, the Securities Association of China, and other regulatory bodies have also attracted MBA graduates.
In terms of functions, investment and research positions are the most popular categories among this year's SAIF FMBA graduates, accounting for 32.4% and 20.6% respectively. In addition, strategic investment/planning and sales/trading both represent 11.8%. Another 5.9% of graduates chose to be management trainees.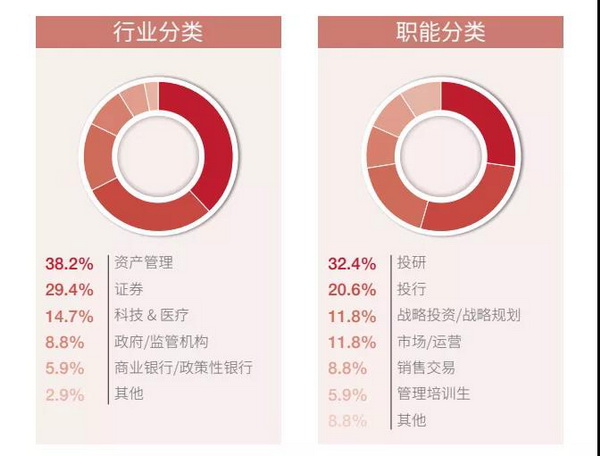 In 2008, SAIF launched the first FMBA Program (Finance Track). The program integrates top educational resources globally, comparable to the finance curriculum of the MIT Sloan Business School, the Wharton Business School, and other top international business schools. It also focuses on Chinese economic and financial development, covering basic finance, professional finance, and management courses.