Recently, SAIF released the Employment Report of MF (Master of Finance) Graduates in 2021. The report showed that, despite the adverse influence on the global economy due to the COVID-19 pandemic, the average and median numbers for annual starting salary were RMB 429,000 and RMB 400,000, respectively (up 21% and 33% from 2020). These figures showed the strong competitiveness for SAIF MF graduates in the job market, and among them, each Fintech Graduate received three job offers on average.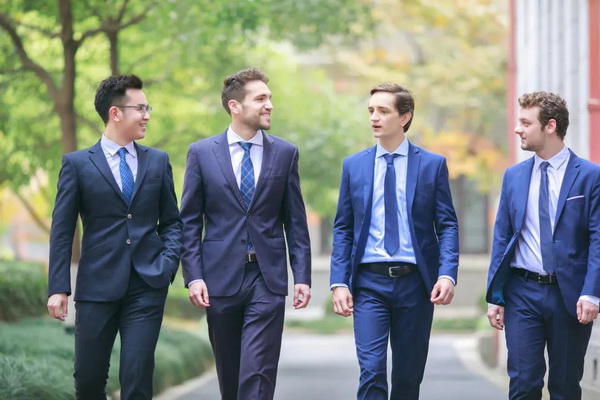 There were 89 SAIF MF graduates in total this year, including 71 Chinese students and 18 foreign students. Apart from two graduates who decided to continue their studies, the placement rate of the other 87 graduates was 100%. The average annual salary of the first 24 MF Fintech track graduates was RMB 472,000 and the median figure was RMB 445,000. The average annual salary of the MF General track graduates was RMB 412,000 and the median figure was RMB370,000, which showed a significant rise compared to year 2020. Among all employed students, 68.4% earned more than RMB 300,000 per year and 15.2% earned more than RMB 600,000 per year.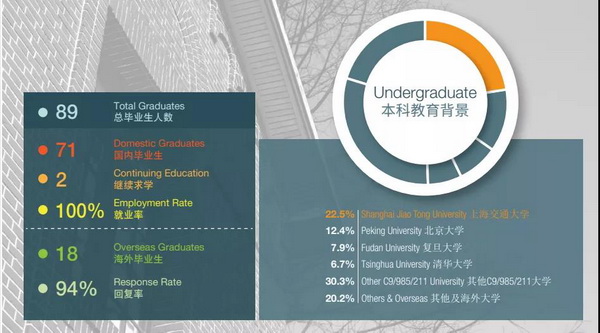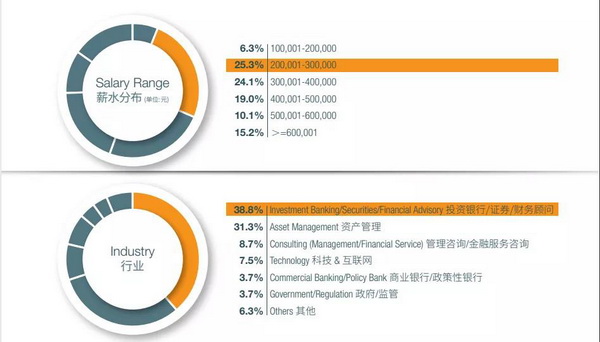 As SAIF's flagship program, SAIF MF has been taking the lead in employment data among comparable institutions and universities. This year, overall employment statistics still fully highlight SAIF MF's differentiators of Internationalization, Specialization, and High Level.
According to recent statistics, 38.8% of the graduates preferred investment banks, securities, and financial advisors; another 31.3% were engaged in the asset management industry. In terms of functions, investment research posts once again became the most popular positions for this year's SAIF MF graduates, accounting for 42%, followed by sales transaction, investment banking, and consulting/strategic investment (accounting for 18.8%, 15.0% and 12.5%, respectively).
In terms of employers, MF graduates were attracted by different kinds. These included renowned international investment banks (JP Morgan, Morgan Stanley, Bank of America Securities, Citigroup, Nomura International, etc.), leading domestic institutions (Tencent Investment, Capital Today, Chinese Investment Corporation, etc.), traditional domestic securities firms (CICC, CITIC Securities, China Securities, Huatai United Securities, etc.), leading consulting firms (E Fund, GF, Da Cheng, Zhong Ou, BOCIM, etc.), and consulting institutions (Boston Consulting Group, Bain Capital, etc.) Online leaders have also become hotspot targets for SAIF MF graduates, including Tencent, Meituan Dianping, and other unicorn companies.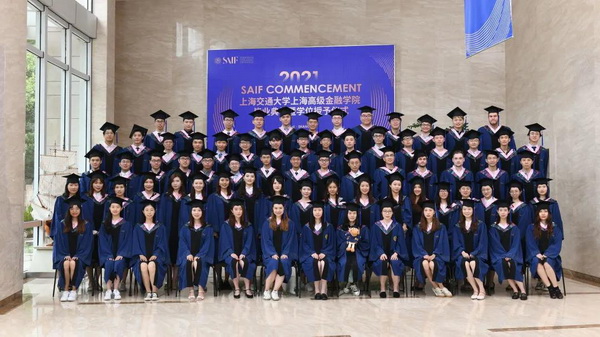 To meet development demands of the financial industry, SAIF was the first to set up a MF Fintech Track in China. After completing two years of systematic courses and practical internships in finance, the first class of Fintech Track graduates are heavily favored by the market. The placement rate of Fintech graduates is 100% and they each receive more than three job offers on average. To be specific, 62.5% of the Fintech graduates entered the securities industry, 20.8% entered hedge funds or privately offered funds, and another 8.3% entered the technology & internet industry. Their main job functions are investment research (secondary market) and sales & trading, , accounting for 45.8% and 37.5% respectively. In terms of employers, more than half of the Fintech graduates chose top investment banking firms such as CICC, CITIC Securities, China Securities, or Huatai United Securities. Other employers include Morgan Stanley, DTL, Jiukun Investment, Chongyang Investment, and other well-known Chinese and foreign financial institutions. Tencent also hired two Fintech graduates this year for big data analysis and research.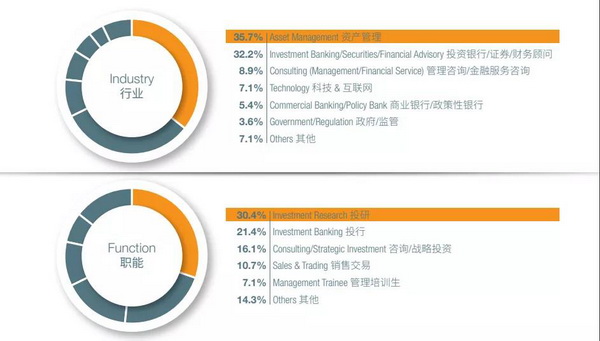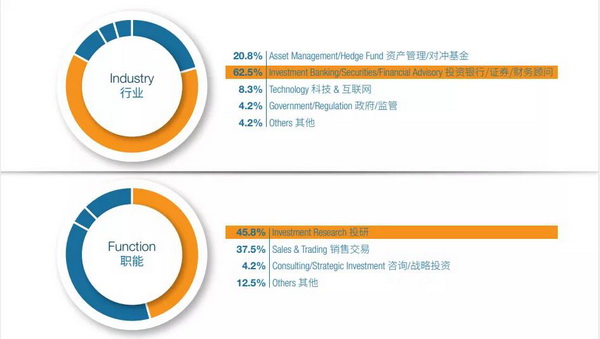 Unlike the MF-General Track, the MF-FinTech Track prefers students with a background in science and technology or a second major in mathematics, statistics, or computer science. In addition to Finance courses, the curriculum focuses on Statistics & Machine Learning, Computer Skills & Applications, and other professional skills training. It cultivates top inter-disciplinary talent who can understand basic principles of finance; master modern artificial intelligence, machine learning, big data, cloud platforms, blockchain, and other technologies; and demonstrate programming skills.
Xuebo Xu, a graduate from Jilin University who majored in financial mathematics and joined CICC after graduating as a Fintech SAIFer, said that "The curriculum at SAIF is of high quality, with comprehensive technical courses such as C++, machine learning, database, measurement and financial engineering, etc. These courses focus on combining theory and practice together, requiring students to do everything from building models to programming by ourselves, which prompted us to grow up quickly to meet the industry's needs in just two years."
The Master of Finance Program is a full-time flagship program launched by SAIF in 2009. All of its students have graduated from world-class universities, and the average admission rate is below 5%. With all courses taught in English, the SAIF MF Program trains international financial professionals who are proficient with modern financial theory, techniques, and skills — and are familiar with the practices of the financial sector in China and across the world. Compared against other similar programs in China, SAIF MF features world-class faculty from leading international universities, a dynamic curriculum design in line with international standards, and an internationalized and open-minded educational system. In addition, its modern teaching approaches are supported by a simulation laboratory.
Curriculum and courses are closely linked with development of the international financial industry and reflect the reality of Chinese and international markets. Students not only have the opportunity to participate in joint admission programs with world-renowned institutions such as Columbia University, the London School of Economics, and others, but may also enjoy access to international resources and exclusive short-term overseas modules from all over the world.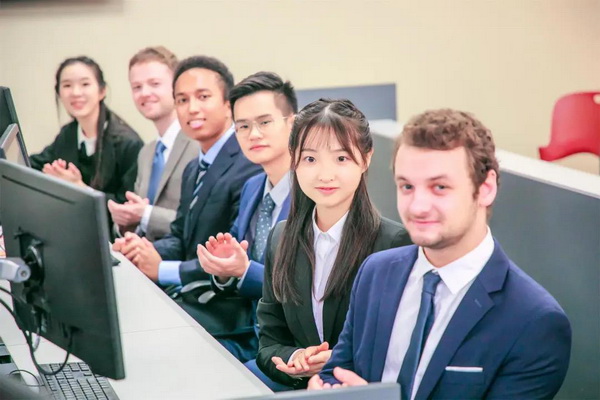 After years of hard work, SAIF MF Program has become a benchmark program in China. In the Masters of Finance Ranking published by the Financial Times, the SAIF MF Program maintained its leadership in Asia for three consecutive years. This year, the SAIF MF Program Admissions Committee selected 79 MF22 pre-admitted students based upon 7 dimensions and 14 indicators, with a final acceptance rate of only 2.5%. MF22 pre-admitted students, originating from 985 universities, have diverse professional backgrounds and rich practical experience, earned outstanding awards, and possess soft power. Among them, 41% majored in science and technology and 58% majored in finance and economics. Of the pre-admitted FinTech students, 72% had majored in science and technology and 54% had inter-disciplinary dual degrees.
"We want to endow our students with not only the ability to think systematically and innovatively, but also the cutting-edge skills that Fintech provides, which will help all SAIF MF graduates to grow continuously in the next decade or even decades and become modern professionals close to the market and with outstanding expertise and international vision," said Professor Tan Wang (Faculty Director of the SAIF MF Program and Professor of Finance at SAIF). "Over the past ten years, SAIF MF has been on the road to success, step by step, by adhering to our international vision and integrating our curriculum with China's financial needs, while persisting in continuous innovation. The organic combination of the two ensures that our program is full of vitality, and that our students can learn and apply what they have learned in practice. In the future, we will continue to adhere to this roadmap and direction."