On September 23rd, the Faculty and Staff Autumn Semester meeting was held at SAIF. Professors Chun Chang (Executive Dean, Huifu Chair Professor at SAIF), Qigui Zhu (Secretary of the CPC SAIF Committee), and Jiang Wang (Executive Director, Chair of Academic Council at SAIF) delivered speeches. Nearly 200 SAIF professors and staff attended the conference.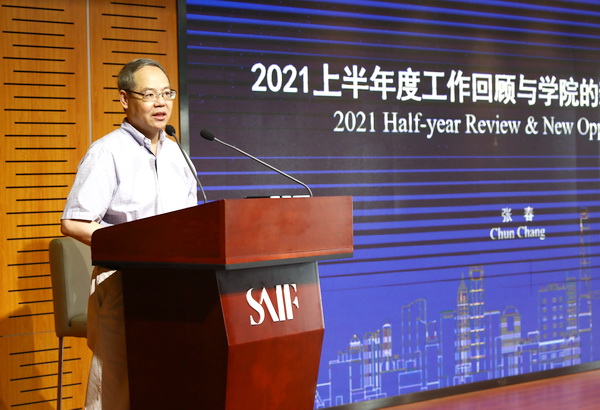 Professor Chun Chang said that SAIF has progressed well in many aspects during the past year, including: the Phase III Strategic Plan (2021-2030), faculty construction, think-tank construction, talent training, and external cooperation. He emphasized that the current situation requires further promotion of academic, think tank, and applied research — as well as talent training, which brings both development opportunities and new challenges to SAIF. He urged all faculty and staff to focus on research and innovation to support talent cultivation and face challenges.
Professor Qigui Zhu said that 2021 is the first year of both the SAIF Phase III Strategic Plan (2021-2030) and the third phase of China's 14th Five-Year Plan, and that we should make every effort to achieve these goals.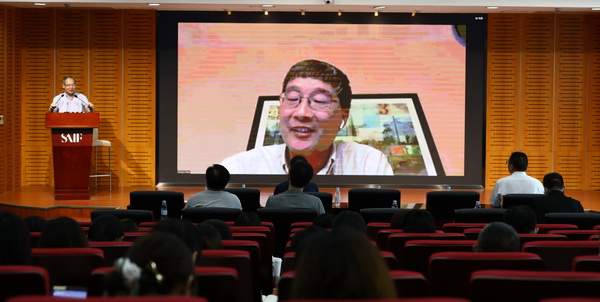 Professor Jiang Wang pointed out in his concluding speech that there are two keys to achieve goals faster and with a better outcome. One is to implement the specific tasks to make sure that the Plan proceeds at a steady pace. The other is to innovate.