The 2021 SAIF Faculty Retreat was successfully held in Nantong, Jiangsu Province from June 28th to the 30th. The retreat was conducted both onsite and virtually, with a total of nearly 60 participants, including faculty, management, and department chiefs. The retreat focused on SAIF's development over the past year and shed light on such topics as talent training and think tank construction. With the strengths of faculty governance and active inter-departmental cooperation, the annual retreat effectively promotes SAIF's faculty development, discipline construction, and educational program innovation.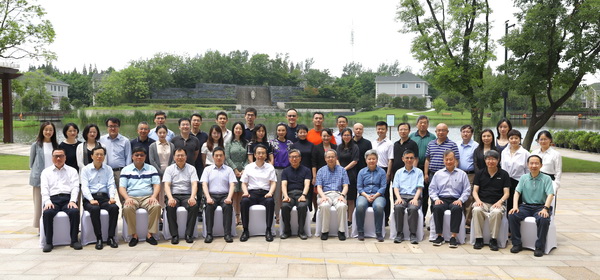 This year's retreat was presided over by Professor Hong Yan (Deputy Dean for faculty and research at SAIF). Professor Chun Chang (Executive Dean at SAIF) introduced the key tasks including think tank construction and educational programs development related to SAIF's Phase III strategic development. SAIF's recent achievements, including its extended AACSB accreditation and its discipline ranking, were also mentioned. Hui Wang, Mayor of Nantong, also attended and addressed the meeting. "Nantong city and Shanghai Jiao Tong University (SJTU) have had a close relationship since over a century ago," Mayor Wang said, "and it has been deepened recently by the signing of the strategic cooperation agreement between the two parties." He also introduced the current development of Nantong's economy and hoped to develop deeper collaboration with SAIF in the future.
In the educational programs and research sessions, program directors from MF, MBA, and EED briefed the progress of their respective programs, analyzed the challenges they faced, and proposed innovative measures for future development. Professor Feng Li, Associate Director of CAFR, systematically introduced the school's think tank development and the training programs delivered by CAFR and SAIFR.
On June 29th, the award ceremony for the "SAIF Outstanding Teaching Award" was also held during the retreat. Professor Eric Chang was awarded the 5th SAIF Outstanding Teaching Award. This award is sponsored by the "Weiye Teacher Scholarship" founded by Weiming Wang (a SAIF alumnus), to honor SAIF faculty for their outstanding contributions to teaching.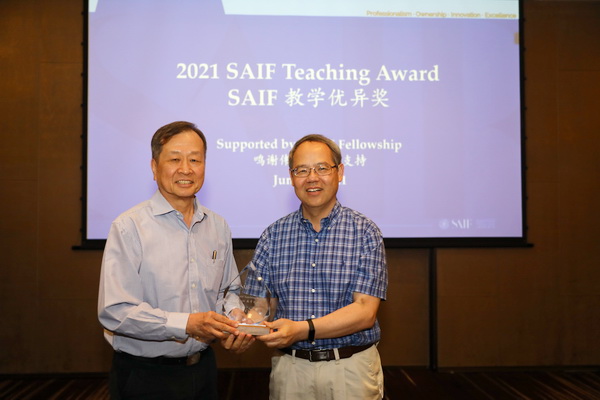 On June 30th, the inauguration ceremony of the SAIF Qinglan Fund was held. The SAIF Qinglan Fund, an essential part of the SAIF faculty support fund system, recruits and cultivates high-level academic talent and provides targeted support to junior faculty in academic research. Professor Guangshao Tu (Executive Director of the SAIF Board), as one of the fund launchers, emphasized that the Qinglan Fund was established to promote young scholars to direct their efforts in teaching and research toward advancing SAIF's development. Professor Chun Chang introduced the fund's operation mode and expressed his gratitude to the faculty and alumni for their support. He also stated that as a research-oriented business school, SAIF would strive to further enhance its finance discipline and research development efforts.
After a comprehensive discussion, Professor Guangshao Tu and Professor Jiang Wang (Chair of Academic Council) gave their concluding remarks. Professor Tu analyzed the demands and strategic layout of SAIF's educational programs, disciplines, and market from different perspectives, including: the adaptation to social development, the relationship between finance and the real economy, and regional development. Professor Wang said that an overall strategy and a long-term perspective are indispensable in building a world-class finance school; therefore, SAIF should strive for comprehensive development in teaching, academic research, policy, and applied research in the future. He also stressed that SAIF must expand its faculty team, strengthen its research force, and establish effective mechanisms to provide strong support for continuous research output.