On July 3rd, the 2021 SAIF Commencement Ceremony was held in the auditorium at the Xuhui Campus of Shanghai Jiao Tong University (SJTU). This year's event featured remarks from Qing Wu (Vice Mayor of Shanghai, Chairman of the SAIF Board) and Zhenbin Yang (Chairperson of the SJTU University Council, Vice Chairman of SAIF Board). The ceremony was also broadcast live to enable graduates and professors overseas to participate virtually.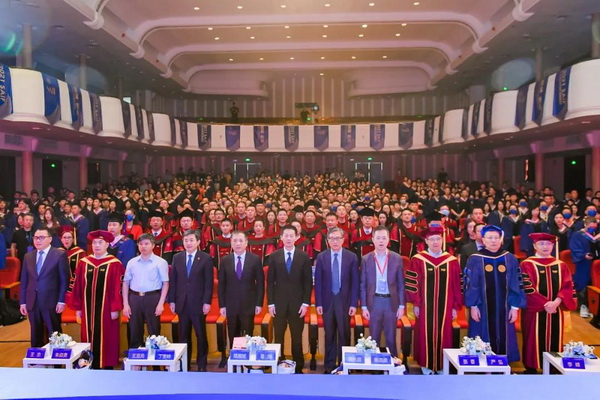 In his opening remarks, Professor Zhenbin Yang praised the remarkable achievements SAIF had made in recent years. "SAIF has effectively promoted SJTU's "First-class universities and disciplines of the world" construction and provided both talents and think tanks for the development of the Shanghai International Financial Center and the Global Science and Technology Innovation Center," Professor Yang said. "In your new life journal, be perseverant, be honest, progress with foresight, and always strive for the prosperity of our nation," he remarked to the graduates.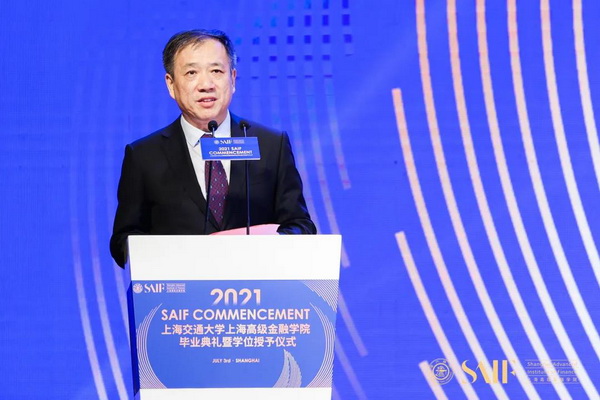 Vice mayor Qing Wu, in his speech, gave his best wishes to the graduates. He inspired all graduates to contribute greater efforts toward their future careers.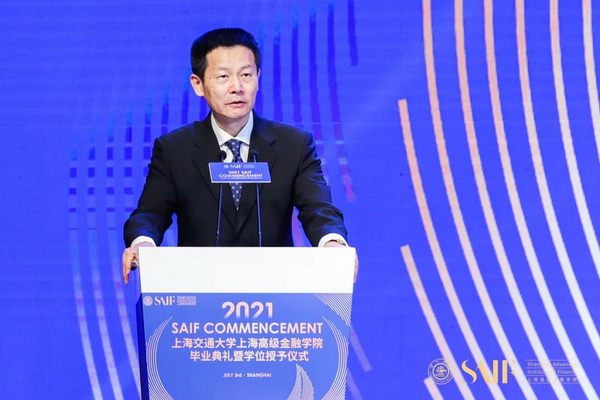 In 2021, a total of 405 MF, MBA, EMBA, GES, and PhD students were awarded their degrees by SAIF. Included among them are the first class of Fintech Track graduates from SAIF's flagship MF program. The Fintech graduates are heavily favored by the market; each student completes two years of systematic courses in finance, statistics, machine learning, and computer skills. The data provided by the SAIF Career Development Center shows that the placement rate of Fintech graduates is 100% and that half of them received more than three job offers.
Meanwhile, the placement rate of MF General Track graduates was also 100% in 2021. Secondary market investment and research, sales and trading, consulting and investment banking are the main job functions for this year's MF graduates. By the end of June, the placement rate of 2021 full-time MBA graduates had reached nearly 95%. The top two industries they entered were asset management and investment banking or consulting (security/financial).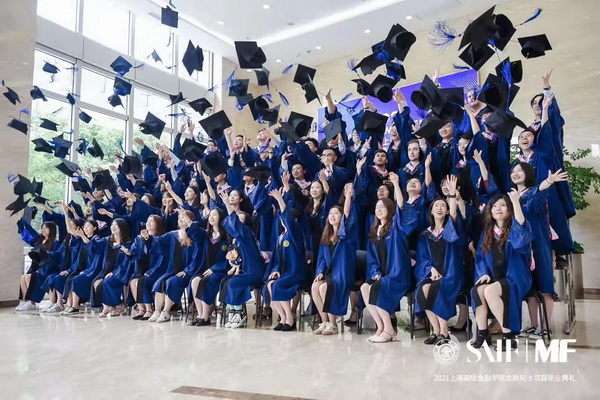 During the ceremony, nineteen 2020 graduates and sixteen 2021 graduates received the "Shanghai Outstanding Graduate" award. Thirty-three 2020 graduates and thirty 2021 graduates received the "SJTU Outstanding Graduate" award.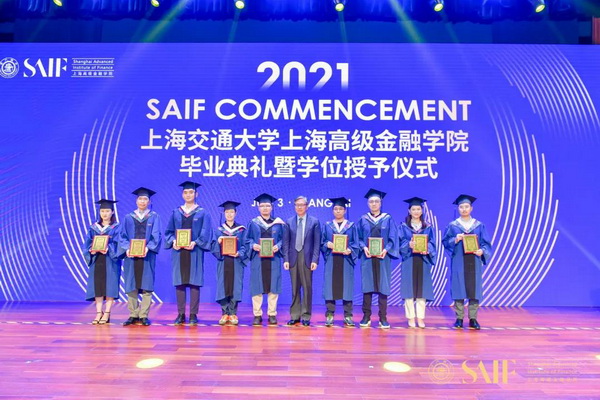 Shuwang Yan, a graduate representative from the EMBA program delivered an extraordinary graduation speech in which he reflected upon his own learning experience and expressed gratitude to SAIF. Three graduate donor representatives: Hong Zhu from GES 7, Hao Zhang from EMBA 2016, and Weiman Tang from MF 2019 accepted the graduation donation certificates. To encourage students with remarkable achievements, all funds from the donations will be granted as scholarships to SAIF MBA and MF students.
At the ceremony, Jianjun Wang (Executive President of the Alumni Association at SAIF) warmly welcomed all graduates to join the SAIF Alumni Association.
Together with the 2021 graduates, the 2020 graduates were also invited to join the commencement, which was canceled last year due to the Covid-19 pandemic. Professor Chun Chang, Professor Qigui Zhu, Professor Hong Yan, and Professor Feng Li awarded the graduation certificates to both 2020 and 2021 graduates and took photos with them. At present, SAIF has produced over 5000 graduates, all of whom now contribute to the progress of China's finance industry.