On April 17, 2021, an appreciation ceremony for the 3rd anniversary of the establishment of the Shanghai Advanced Institute of Finance (SAIF) Donation Wall was held at the Xuhui Campus at Shanghai Jiao Tong University (SJTU). Professor Guangshao Tu (Adjunct Professor at SJTU and Executive Director at SAIF) and Professor Chun Chang (Executive Dean, Professor of Finance and Huifu Chair Professor at SAIF) delivered welcome speeches.
At the beginning of the ceremony, Professor Jie Pan (Vice Dean at SAIF) introduced the history of the SAIF Donation Wall to the donors and alumni. In April 2018, in recognition of the contributions to the development of SAIF made by donors, the SAIF Donor Wall was officially established in the south hall at SAIF at Xuhui Campus. At present, 100 individuals, 14 classes, and 19 enterprises have been listed on the wall. Many of them have made multiple donations, which fully reflects the SAIF donation culture — "Be thankful for mutual benefits".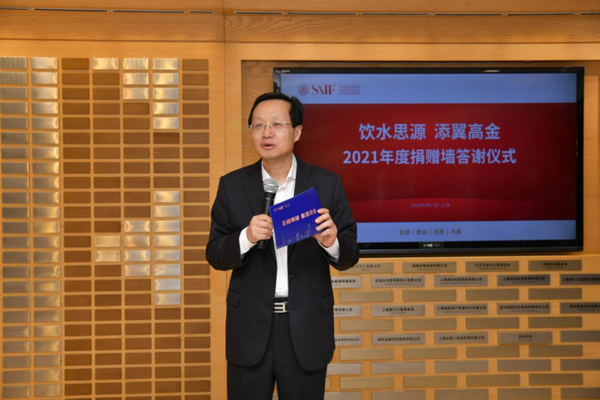 In April 2019, SAIF ran a special donation program called "Step By Step" to celebrate its 10th anniversary of establishment. Professor Chang said in his speech that SAIF donors demonstrate the "Gratitude" spirit of both SJTU and the International Business School, which is one of the most precious assets of SAIF since its establishment twelve years ago. He hoped that with the spirit of SJTU and the power of SAIF, donors and SAIF would continue to be of benefit to each other.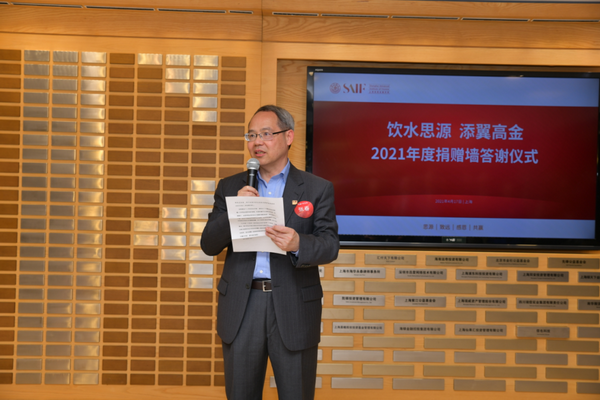 As a representative donor of the "Step By Step"program, Professor Tu said that the development of SAIF was inseparable from the care and support of all kinds of shareholders, with special recognition being given to the donors. Through the program, Professor Tu jointly established the "SAIF Qinglan Fund" with several professors. He hoped that these programs and funds would promote young scholars to collaborate in their efforts with teaching and research to build SAIF into a world-class financial school.