Between November 19th and 22nd, the public welfare initiative of the Financial Media Program 2020 was successfully held. It provides short-term, specialized, and customized training for leading financial media professionals. After several rounds of selection, dozens of senior executives, editors and reporters (from top-notch financial media across China) enrolled in the 2nd Intake of the Program and spent three days at the SAIF Shanghai Campus.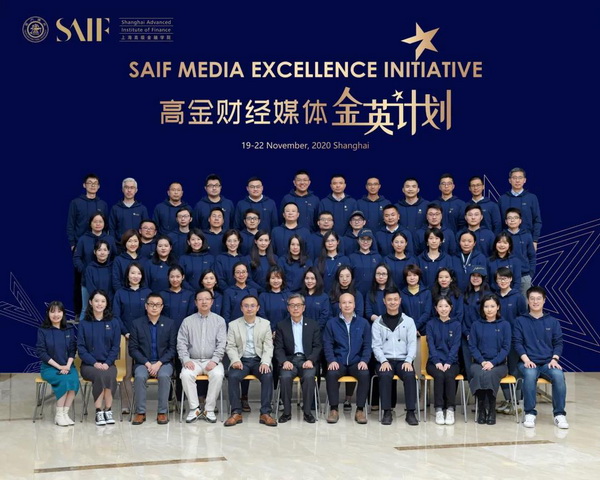 On the evening of November 19th, the Opening Ceremony and Dean's Night of Financial Media Program 2020 were held. Professor Qigui Zhu, Secretary of the Party Committee of SAIF, expressed a warm welcome on behalf of SAIF to the participants in the 2nd Intake of the Program. He pointed out that SAIF Financial Media Program brings together senior executives and journalists in the financial media community. The program imparts financial thinking, improves financial skills, and promotes the vigorous development of China's financial sector through a short-term (yet intensive) study journey guided by experts and scholars.

Afterwards, the first session was delivered by Professor Chun Chang (Professor of Finance, Executive Dean and Huifu Chair Professor of SAIF), who reviewed the evolution of modern FinTech and delineated the prospect of "Finance in the Digital Age" for media professionals. Daojun Wang (Editor-in-Chief of Blue Whale Finance and representative of Intake 2 graduates), shared his experience with his peers. The three-day Program officially began on November 20th.




The Program concluded with presentations of participants based upon their three-day journey which brought the 2nd intake of the Program to a successful end. In spite of the high concentration, density, and precision of the Program, many media participants looked forward to more such opportunities in the future. They enjoyed listening to the interpretation and analysis of SAIF faculty, exchanging views with other media peers, broadening their horizons and vision, and enhancing their capability.