Recently, Shanghai Advanced Institute of Finance (SAIF), Shanghai Jiao Tong University (SJTU) released the employment report of SAIF Master of Finance (MF) graduates in 2020. The report shows that despite the global economic and social turmoil and the overall grim employment situation affected by COVID-19, the employment figures of SAIF MF graduates still rose against the dim trend and continued to maintain a 100% employment rate. The mean and median starting salaries of SAIF MF graduates both reached record highs, demonstrating the strong market competitiveness of the graduates.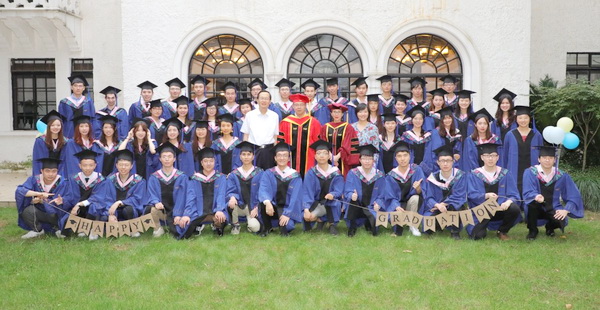 It is reported that among this year's 84 SAIF MF graduates, apart from 3 graduates who decided to continue their studies, nearly 90% of the 81 graduates received offers before the Chinese New Year and assured their favorite jobs six months before graduation. The average salary is RMB355,000 and the median figure is RMB300,000, up 11.3% and 11.1% respectively from 2019, with 14.8% of the graduates earning more than RMB600,000/year.
As SAIF's flagship program, SAIF MF has always been in the lead in employment data among comparable institutions and universities. This year, the overall employment statistics still fully highlights SAIF MF's differentiators of Internationalization, Specialization and High Level.
Statistics shows that 4% of the 81 graduates moved to Europe and the United States, while another 10% went to work in Hong Kong and other destinations. In terms of industries, asset management and investment banking/securities/financial advisory are two main sectors for this year's graduates. The former has attracted 34.6% of the graduates, and employers include leading domestic and foreign investment institutions such as Temasek, Huaping Investment and Tencent Investment. The latter accounted for 33.4%, including international investment banks such as Bank of America Securities, JP Morgan Chase, Morgan Stanley and Citigroup, as well as domestic head institutions such as China International Capital Corporation Limited (CICC) and CITIC Securities. Online leaders have also become new hotspot targets for SAIF MF graduates, including ByteDance, Meituan Dianping, Bilibili and other unicorn companies.
In terms of functions, investment research posts have become the most popular positions for this year's SAIF MF graduates, accounting for 42%, followed by consulting/strategic investment, investment banking and other traditional preferred functions, accounting for 13.6% and 11.1% respectively. In addition, thanks to the tailored career guidance of SAIF Career Development Center, some graduates with strong interest and strength in quantitative research have won quantitative-related offers from top institutions at home and abroad, including Morgan Stanley, Citigroup and CITIC Securities.
The career development of SAIF graduates cannot be separated from the long-term support and wide recognition of employers, who have given positive feedback on the performance of SAIF MF graduates. According to CICC, which has successively recruited SAIF MF graduates for years, "SAIF fosters and delivers many outstanding talents for CICC and the financial sector at large every year, who strive to realize their dreams of youth and struggle in investment banking, stock, fixed income, private investment, research, strategic development and other roles. We hope that SAIF would cultivate more young professionals of the new era with ideals and energy, who will continue to explore the financial world, move forward, work hand in hand to forge CICC's ambition and strive to build the great Chinese dream." Also one of the frequent employers of SAIF graduates, Guangfa Fund commented, "Essentially, we hire SAIF MF graduates every year, most of who are sound in expertise, steadfast and diligent. They are often high performers in the investment research positions of the company. We needs graduates who can not only look up at the starry sky and have the ambition of serving China's financial sector, but also keep their feet on the ground and always keep in mind the priority of the interests of the holders. We hope that SAIF could train more talents with these attributes. "
Master of Finance Program is a full-time flagship program launched by SAIF in 2009. All the students graduated from world-class universities, and the average admission rate over the years was below 5%. With all courses taught in English, SAIF MF Program aims at training international financial professionals who are proficient with modern financial theories, techniques and skills and are familiar with the practices of the financial sector in China and across the world. Compared with other similar programs in China, SAIF MF features world-class faculty from leading international universities, dynamic curriculum design in line with international standards, internationalized and open-minded educational systems and modern teaching approaches supported by the simulation laboratory. The curriculum and the courses are closely linked with the development of the international financial industry and the reality of the Chinese and international markets. Students not only have the opportunity to participate in joint admission programs with Columbia University, London School of Economics and other world-known institutions, but also enjoy international resources and exclusive short-term overseas modules all over the world. In 2018, SAIF MF Program added MF-FinTech Track to the existing MF-General Track, which focuses on finance, machine learning, computer technology and application, committed to fostering urgently needed cross-disciplinary professional for the global financial industry.
In the Masters of Finance Ranking published by Financial Times in 2020, SAIF MF Program maintained its leadership in a number of measures, including "PhD Faculty" (No.1 in the world), "Salary Today" (No.4 in the world), "Salary Increase in Three Years after Graduation" (No.5 in the world and No.1 in Asia), and "International Courses" (No.25 in the world and No.1 in Asia). Overall, it ranked 13th out of all 55 schools on the list and 1st in Asia for the third time in a row.
"We want to endow our students with not only cutting-edge skills, but also the ability to think systematically and innovatively, which will help all SAIF MF graduates to grow continuously in the next decade or even decades and become modern professionals close to the market and with outstanding expertise and international vision," said Prof. Tan Wang, Faculty Director of SAIF MF Program and Professor of Finance at SAIF, "Over the past ten years, SAIF MF has been on the road to success step by step, by adhering to our international vision and integrating our curriculum with China's financial needs, while persisting in continuous innovation. The organic combination of the two ensures our program full of vitality, and that our students can learn and apply what they have learned in practice. In the future, we will continue to adhere to this roadmap and direction."