On October 28th, the Donation Ceremony of Shanghai Chenxi Equity Investment Fund Management Co., Ltd. was held at Shanghai Advanced Institute of Finance (SAIF), Shanghai Jiao Tong University (SJTU). Prof. Guangshao Tu, Adjunct Professor of SJTU and Executive Director of the Board of Directors at SAIF, delivered a speech on behalf of SAIF. He greeted and thanked all the guests attending the event and hoped that both parties would further strive for financial research and talent training and make more contributions to the rise of China's economy.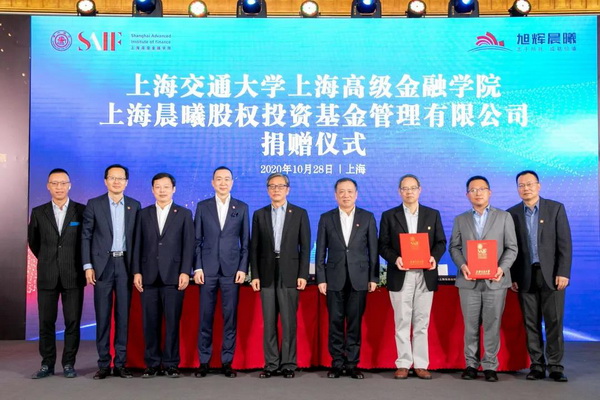 Mr. Zhenbin Yang, Secretary of the CPC Committee of STJU, reviewed SAIF's original goal and the achievements made over the past 11 years. He pointed out that SAIF's development could not be separated from the support and assistance of all sectors of the community. He was confident that this targeted donation would effectively help SJUT's efforts to become a top-class university and establish top-class disciplines, and to better serve China's key strategic needs. He hoped that SAIF and Chenxi would work closely together, continuously explore and keep pace with the major issues of the time, innovatively carry out collaborations in talent training, think tank construction and other aspects, and jointly make unique contributions to China's economic and social development.
Later, Mr. Jiaojie Cheng, Director and Secretary-general of Shanghai Jiao Tong University Education Development Foundation, Prof. Chun Chang, Executive Dean, Professor of Finance and Huifu Chair Professor at SAIF, and Mr. Xinyu Zhou, President of Shanghai Chenxi Equity Investment Fund Management Co., Ltd. executed a donation agreement on behalf of the three parties respectively. Prof. Guangshao Tu, Mr. Zhenbin Yang, Mr. Feng Lin and Ms. Xin Yang witnessed the signing ceremony. Afterwards, Mr. Jiaojie Cheng and Prof. Jie Pan delivered donation certificates and gifts to Mr. Xinyu Zhou and Ms. Xin Yang.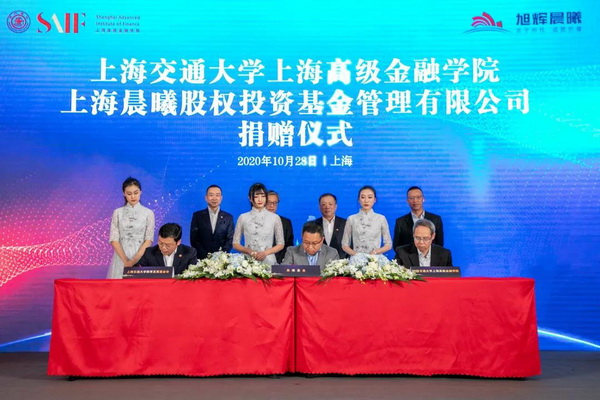 This donation reflects the real care and ardent expectation of alumni and their organizations for SAIF and will also significantly support SAIF's financial research and operation. In turn, SAIF will keep the kindness in mind, forge ahead with determination, strive to repay the society with outstanding achievements, and make unremitting efforts for Shanghai to transform into an international financial center commensurate with the power of China's economy and the international position of RMB.