On July 23rd, 2020, the Memorandum Signing Ceremony of Shanghai Advanced Institute of Finance (SAIF) and Shanghai Zijiang Foundation was held at the SAIF Xuhui Campus. Jia Fang, Head of Development and External Relations at SAIF, presided over the ceremony. Professor Chun Chang, Professor of Finance and Executive Dean of SAIF, Shanghai Jiao Tong University (SJTU); Han Liu, Chairman of Shanghai Zijiang Foundation; Lin Chen, Secretary General of Shanghai Zijiang Foundation; Kai Zhang, Assistant to Secretary General of Shanghai Zijiang Foundation; and other leaders and guests attended the event.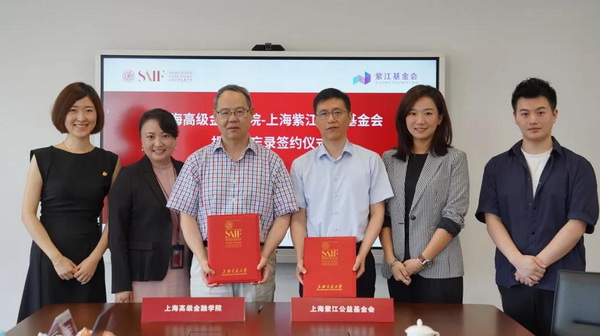 In December 2018, Shanghai Zijiang Foundation signed a donation agreement with SAIF to set up the Special Fund for Socially Responsible Investment Discipline Development. In 2020, Zijiang proposed to change the purpose of its contributions and instead launch the Zijiang Special Fund for Discipline Development. It would further facilitate the training of financial professionals and academic research in the financial domain based upon the concept of public welfare, to better serve the national strategic goal of the construction of Shanghai into an international financial center. The Fund will extensively support the needs of SAIF's overall discipline development framework, strive to achieve a flexible and diversified discipline development architecture, and inject new momentum into SAIF's sustainable development.
Witnessed by the guests, Executive Dean Chun Chang and Chairman Han Liu signed the donation memorandum on behalf of each party. This contribution reflects Zijiang's expectations for the cultivation of world-class financial professionals and its social responsibility to foster charity. It is also a recognition and acknowledgement of SAIF's education philosophy. With the encouragement and aid of the Zijiang Foundation and other community leaders, SAIF will continue to make ongoing progress towards the goal of building a world-class financial school and cultivating more outstanding financial professionals for the both the state and society.