Shanghai Advanced Institute of Finance (SAIF) held a graduation ceremony on July 9, 2017, at which more than 350 graduates were awarded degrees.
Prof. Wei Cai, Vice President of Shanghai Jiao Tong University, attended the ceremony and addressed a speech. Mr. Jianqin Jiang g, Chairman of China-Central and Eastern Europe Investment Cooperation Fund and former Chairman of the Industrial and Commercial Bank of China, served as the keynote speaker.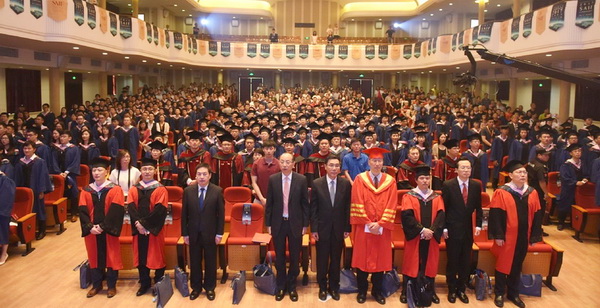 Mr. Jiang pointed out that success comes from persistence and perseverance. In the financial sector, the one who sticks to the end will be the king. The financier community appreciates not sprinters but marathon champions. He encouraged the graduates to fight for long-run successes instead of being contented by brief applauses.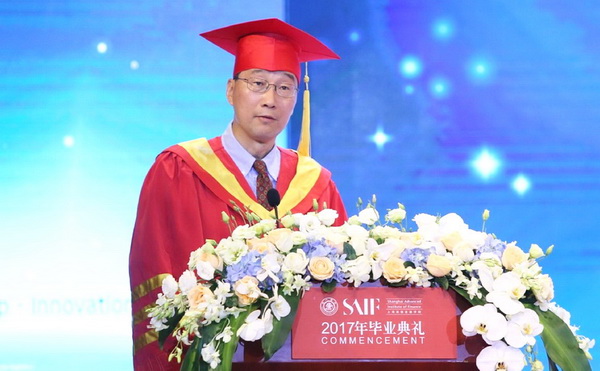 Graduates of the MF, FMBA, EMBA, DBA and PhD & Ms-PhD programs attended the event. Prof. Jiang Wang, Chair of SAIF's Academic Councilcongratulated the graduates and hoped that they would always carry the SAIF spirit with them.
The graduation ceremony was hosted by Prof. Chang Chun, Executive Dean of SAIF. Jie Pan, Associate Dean, served as the master of the ceremony. More than ten leaders and professors, including Yaguang Wang, Vice Dean of the Graduate School of Shanghai Jiao Tong University; Qigui Zhu, Secretary of the Party Committee of SAIF; Feng Li, Deputy Dean; Hong Yan, Deputy Dean; and Fei Wu, Associate Professor were present at the ceremony.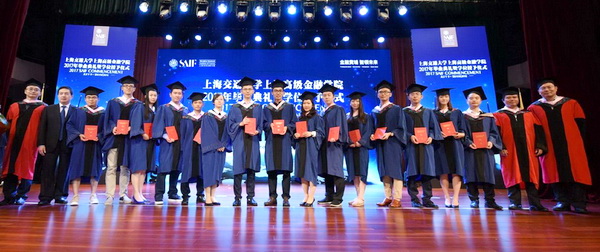 Outstanding graduates were commended at the ceremony. He Wang, Zhang Wenbo, and Chen Xuanxuan---graduates of MF Program, and Zhu Yun and Wang Pengfei---graduates of FMBA Program, were honored as "Distinguished Graduates in Shanghai". Other fifteen graduates, including Xu Junru and Xu Zhengwei, were honored as "Distinguished Graduates of Shanghai Jiao Tong University".