SAIF MF's mission is to provide the best and brightest young individuals with the academic knowledge and professional skills needed to succeed in the global finance industry.
Here you will


 √ Meet the highest-caliber professors from all over the world
 √ Start cutting-edge curriculum and a splendid journey designed in combination by the faculty, industry professionals and leaders
 √ Experience extended learning and various student activities
 √ Enjoy excellent program that offers unique and innovative experience of LIVE Learning
 √ Have 100% of placement rate and highest percentage opportunities to Investment Banking and Trading Companies
Come and start a new challenge with us!
SAIF MF admission for exemption recommended students consists of two formats: Mini-Camps and Summer Camp. SAIF MF will hold 6 Mini-Camps from April 7th to May 21st in 4 cities, including Beijing, Shanghai, Guangzhou and Chengdu. We recommend all students to apply for the mini-camps, as attendees with excellence performance will have the opportunities to win pre-admission offers to join SAIF MF 2018 class or invitations to SAIF MF 2017 Summer Camp.
Application Process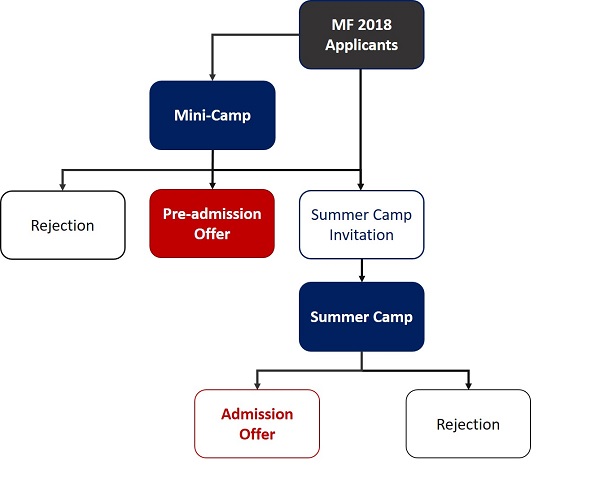 Application information for 2017 SAIF MF Mini-Camps: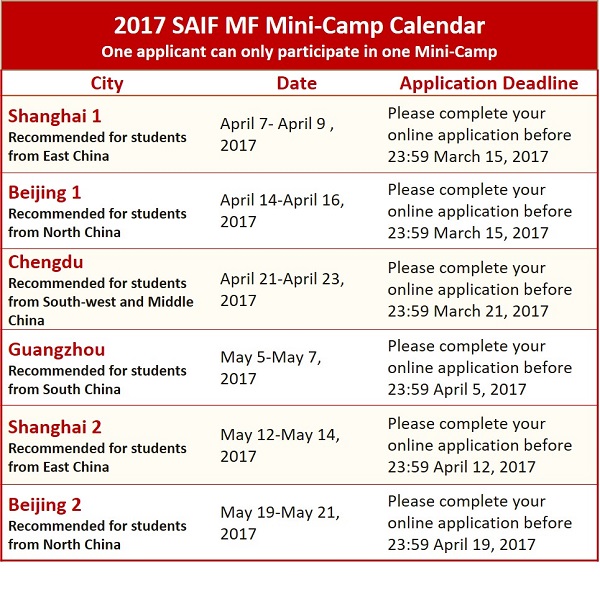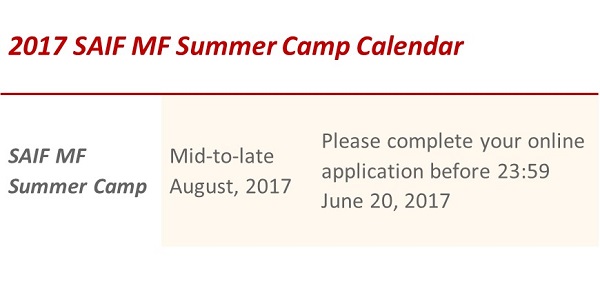 How to Apply

Eligibility
1. For 2018 graduates only. All majors are welcome.
2. Qualified for postgraduate exemption recommendation
3. Strong mathematical and analytical skills
4. Excellent English skills
Application Check‐list:
Please upload in the system. Any paper material delivered will be deemed as invalid.
1. A completed online application form
Please register via official link before deadline. Uncompleted application will be considered invalid.
2. Scanned copy of official university transcript.
Please provide the latest version that stamped by academic affairs department. Students who have minor major please provide official transcript of minor major as well.
3. Scanned copy of English language proficiency test score report.
i.e. CET6, GMAT, GRE, TOFEL, IELTS or other official test score report
4. Personal statement (in English)
Please fill it in the system.
5. 60-second video in English.
Please upload according to system's instructions.
6. 2 online recommendation letters
Recommenders can be a professor, student counselor, or supervisor from internship company and others. System will send email automatically to the recommenders.
7. Scanned copy of additional materials if any
Additional materials including published essays or other certificates.
➤ Please merge all scanned files mentioned above into one PDF and upload in the system. Otherwise new uploaded file will replace the former file.
Please click here to apply. One applicant can participate only one Mini-Camp.
About SAIF
Shanghai Advanced Institute of Finance (SAIF) was established within Shanghai Jiao Tong University (SJTU) in April 2009, with strategic and financial support from the Shanghai Municipal Government. SAIF combines the best of Western and Chinese education systems along with exceptional resources and faculty to offer a world class education on the campus of one of China's top universities. With an aim to become a world-class institution of research and advanced learning in finance and management, SAIF is committed to training top financial talent, building an open platform for research, and becoming a leading think tank, especially on issues related to China's financial system. SAIF is AACSB accredited and recognized internationally as one of youngest business schools in the world.
The Master of Finance (MF) program has been the flagship program at SAIF since it first matriculated students in 2009. In 2016, the SAIF MF program made a strong debut in the Financial Times' annual ranking of the best MF programs in the world, ranking 2nd in Asia and 28th in the world. SAIF MF ranked 1st in Asia and 2nd globally for value for money. Currently, SAIF MF stands as one of the most prestigious finance programs in Asia.
Contact
Email: mf@saif.sjtu.edu.cn
Tel: 021-62934968
WeChat: SAIF-MF
Facebook: @saifermaster
Website: http://mf.saif.sjtu.edu.cn/