Date: Jan. 19th–22nd, 2019(GMT +8)
Venue: Shanghai Advanced Institute of Finance
No. 211 West Huaihai Road, Shanghai, 200030, China
Registration Link
2019 International Youth Leadership Finance Summit (IYLFS) will be held from January 19th to 22nd 2019 in Shanghai. You are invited to attend this fabulous Summit! This year, we will put the spotlight on Artificial Intelligence (AI) + Capital Markets. Participants will target a realistic client case scenario of their choosing. They are expected to develop or discuss the AI solution for their client, and then pitch the business to investors to raise funding during the final competition. We are excited to build on the success of the 2018 IYLFS together and deliver another outstanding event.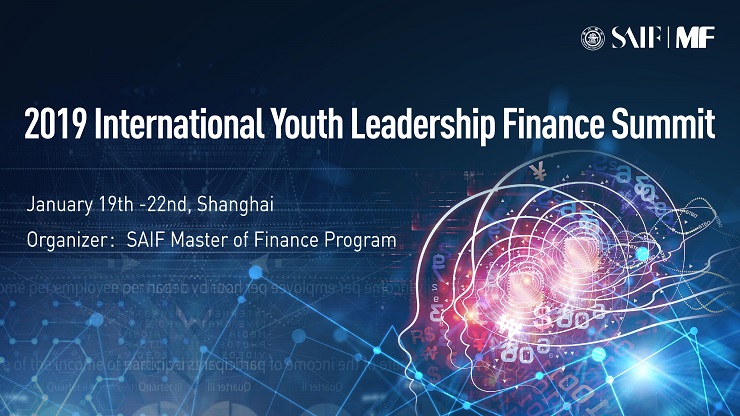 2019 International Youth Leadership Finance Summit (IYLFS) is a student competition hosted by the Master of Finance (MF) Program of Shanghai Advanced Institute of Finance (SAIF) at Shanghai Jiao Tong University. IYLFS aims to provide an interaction and learning platform for outstanding undergraduate students, as well as to cultivate their leadership, communication and organizational skills. We strive to connect the best students of all disciplines across the world, and offer them a unique learning experience through a hands-on business case, and face-to-face communication with business leaders and scholars. On behalf of the SAIF MF program, we hereby officially invite you to join the 2019 International Youth Leadership Finance Summit (IYLFS) from January 19th to 22nd 2019.
Competition Overview
The 2019 IYLFS would evolve around the following aspects: research, AI, and equity financing. Participants would gain hands-on experience and insight into the industry, and enhance your understanding of both theories and practices through research and presentation. The Competition culminates in a live pitch by finalist teams to investors and an audience of professionals and students in the quality and authenticity expected from real-world clients.
1. Each team will need to find a real company. Unlisted companies are recommended but not required. The company can be in but are not restricted in the following sectors: education, healthcare, real estate, and new retail. Each team should complete an analysis from the macro to company level, and explain the rationale behind choosing this company. Using the actual company data and/or access to the company management team is recommended.
2. Discuss the current application of AI in this company, and/or design an AI application for this company in addition to its current business.
3. Imagine that you are the CEO and you are aiming to raise funds for this company. Pitch your company and its AI application to the investors in order to seek equity financing.
Summit Agenda
Date: Jan.19th–22nd, 2019(GMT +8)
Venue: Shanghai Advanced Institute of Finance, No. 211 West Huaihai Road, Shanghai, 200030, China
| | | |
| --- | --- | --- |
| Day | Date | Content |
| 1 | January 19th | Registration and Opening Ceremony |
| 2 | January 20th | Mini Lectures, Workshops by Professors and Industry Leaders |
| 3 | January 21st | Team Campaign Day 1 |
| 4 | January 22nd | Team Campaign Day 2 and Awards Dinner |
Language: The official language of the IYLFS is English.
Awards for 2019 IYLFS:
• The IYLFS winning team will receive a huge cash prize.
• All teams participating in IYLFS will receive competition prizes.
• Each attendee will receive a summit participation package.
• Accommodation: SAIF MF will arrange for each attendee's accommodation from Jan. 19th to Jan. 22nd, 2019
How to Apply
1. Time for application: Nov. 1st to Nov. 15th, 2018 (GMT +8)
2. Who can apply: current full-time undergraduate students from all disciplines. Considering the 2019 IYLFS topic, we would like to encourage teams of 5 with combinations of skill sets to apply for the IYFLS.(e.g. a team with talents in AI application as well as financial analysis and fund-raising). Please note that each individual should submit one application. You are welcome to apply on your own, and we will match your interest and help you form a team if selected.
We welcome undergraduate students from around the world to participate in this competition, and we are sincerely looking forward to seeing you in Shanghai.
For business cooperation, please contact:
Ms. Elena Li Tel: +86 21 62932396
About IYLFS
Six summits have been successfully held since 2013, during which 729 carefully selected undergraduate students from over 40 top universities worldwide participated in the event. Students who attend the summit were mainly from Shanghai Jiao Tong University, Fudan University, Tsinghua University, Peking University, Zhejiang University, University of Science and Technology of China, the Chinese University of Hong Kong, National Chengchi University Nanyang Technological University, the London School of Economics and Political Science (LSE), Massachusetts Institute of Technology (MIT), Princeton University, Cornell University, Columbia University, University of Toronto and so on. Senior executives from world renowned companies have been the competition judges. In the past five years, more than 20 senior executives from companies including Standard Chartered Bank, CFA China, SPD bank, Orient Securities, Haitong Securities, Shanghai Futures Exchange, SPD Silicon Valley Bank, Sequoia Capital China, China PnR and other well-known finance companies attended the summit. 46 media outlets reported on the summit which included CNB, National Finance News, China Daily, and Net Ease along with many others.

2018 IYLFS Overview
After several rounds of keen competition, 130 outstanding undergraduates from 25 top universities and colleges across the world were shortlisted in the final for 2018 IYLFS. The Summit centered on the hotspot domain of FinTech and the participants exchanged ideas on the three areas of Robo-advisor, Data Mining and Blockchain. The final competition focused on four topics of "Rotation Strategy within the Banking Sector", "Design of Blockchain Application", "Quantitative Asset Allocation Using Black-Litterman Model", and "Credit Risk Model for Individual Loan". Four teams from London School of Economics and Political Science, University of Toronto, Shanghai Jiaotong University and Renmin University of China eventually won the champions in these four topics.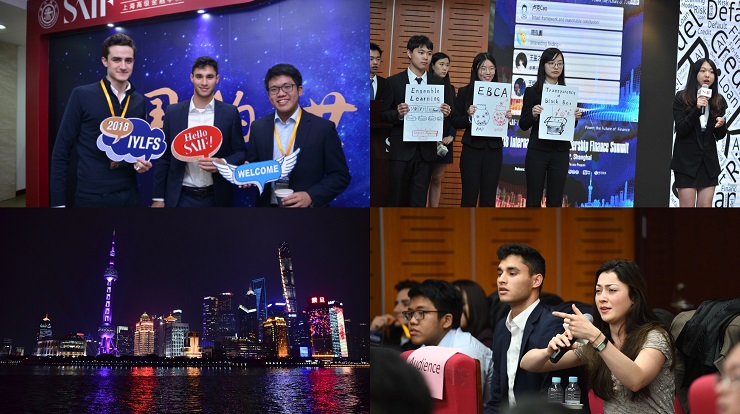 Read More
Sparks of Thought on FinTech - 2018 IYLFS Successfully Held
Mr. Pinjue Che: China's Test Field at the Time of AI
Here Comes the Era of FinTech!
The Battle of Undergraduate Elites at Credit Risk Model for Individual Loan Contest
About SAIF MF
The Shanghai Advanced Institute of Finance (SAIF) was established by the Shanghai Municipal Government at Shanghai Jiao Tong University in April 2009. Its mission is to become a world class institute of research and higher learning with world class faculty. SAIF is committed to developing top talents for the financial world and to generate cutting-edge knowledge in financial theories and applications. In February 2016, SAIF became one of the youngest business schools to be accredited by the Association to Advance Collegiate Schools of Business International (AACSB).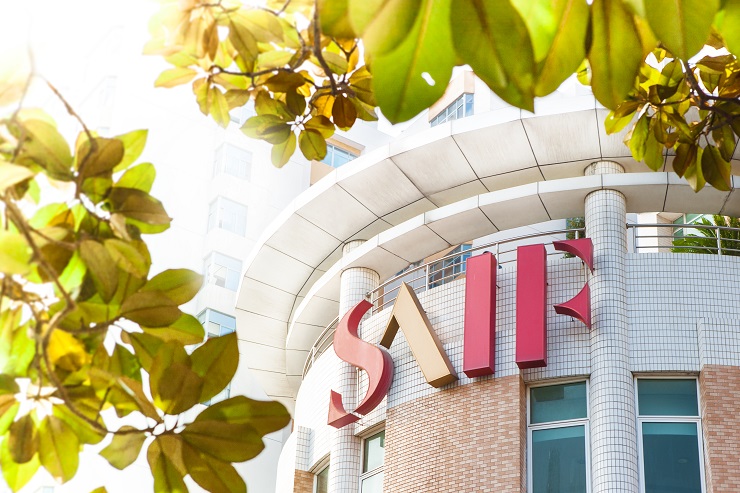 The Master of Finance (MF) program has been the flagship program at SAIF since it first matriculated students in 2009. In 2018, the SAIF MF program made a strong debut in the Financial Times' annual ranking of the best MF programs in the world, ranking 1st in Asia and 10th in the world. In terms of Salary Increase and Value for Money, SAIF MF program ranked 1st in Asia. Currently, SAIF MF stands as one of the most prestigious finance programs in Asia.
Contact
No. 211 West Huaihai Road, Shanghai, 200030, China
Email: mf.summit@saif.sjtu.edu.cn
Tel: +86 21 62934968
WeChat: SAIF-MF
Facebook: Saifermaster
http://mf.saif.sjtu.edu.cn