During the Shanghai Local Final of The CFA Institute Research Challenge 2017-2018 held on December 24th, 2017, the team from Shanghai Advanced Institute of Finance (SAIF) beat 12 other competitors in the Written Report session and entered the final as the winner, while other five shortlisted contenders included the teams from Shanghai Jiao Tong University, Shanghai University of Finance and Economics, Fudan University, Shanghai International Studies University and University of Nottingham Ningbo. On the final day, SAIF won the champion of Shanghai Division after an afternoon full of stress and competition, and will join the winner from Beijing for the Asia Pacific Final in Kuala Lumpur, Malaysia next April.
Comprised of SAIF MBA and SAIF MF students, SAIF Team is mentored by Prof. Wenjun Qiu and supported by SAIF MBA and SAIF MF Offices. It implemented an in-depth analysis on New Oriental (NYSE: EDU.N) in terms of industry development, company positioning and financial performance with both qualitative and quantitative approaches. Moreover, during the presentation and Q&A sessions on December 24th, the team also demonstrated rigorous logic thinking and unique perspectives of industry research, completed by the confidence and professionalism of the participants, which were highly recognized by the jury. Unsurprisingly, SAIF Team became the champion of the Shanghai Local Final.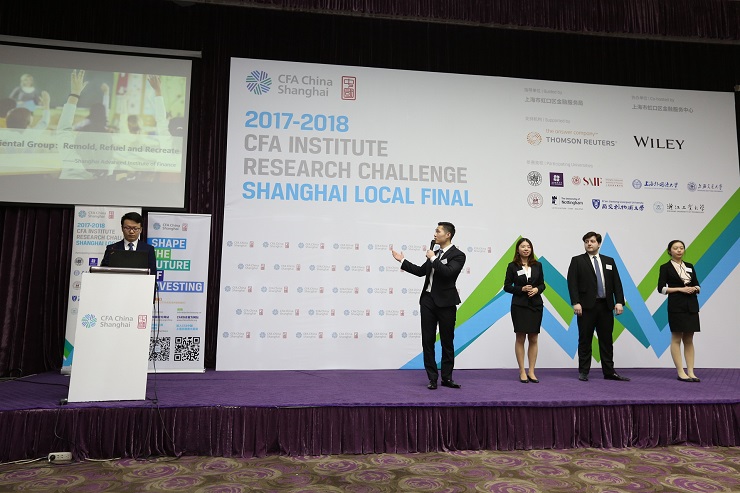 Congratulations to SAIF Team and all the members! (From the left: Ge Tian (MF17), Mehmet Eyup Erdogan (MF17), John Kim (MF17), Siliang Liu (MF17) and Yue Chen (MBA17))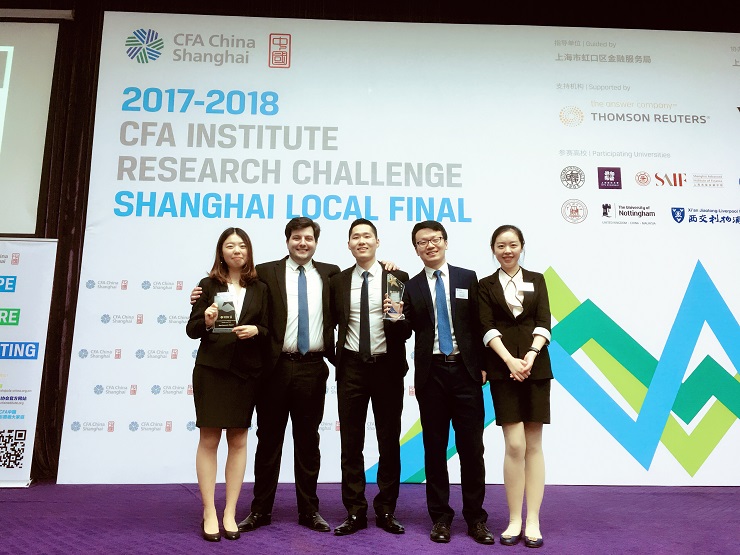 The CFA Institute Research Challenge is an English-speaking contest of analysis and research, targeting at all Finance majors across the world. Every year, the event invites worldwide universities and colleges to take part in the competition, aiming to drive the best practices of stock research and company analysis. All participants are required to review and comply with CFA's code of ethics and professional conducts. The competition consists of local, regional and international contests, and the Asia Pacific Final will be held in Kuala Lumpur, Malaysia next April. We are confident that SAIF Team will achieve greater results in the regional final!