Time: Jan.27th–30th, 2018(GMT +8)
Venue: Shanghai Advanced Institute of Finance
No. 211 West Huaihai Road, Shanghai, 200030, China
Registration Link
2018 International Youth Leadership Finance Summit (IYLFS) will be held from January 27th to 30th 2018 in Shanghai. You are invited to attend this fabulous Summit! This year we will put the spotlight on FinTech, with topics ranging from robo-advisors to data mining. We are excited to build on the success of the 2017 IYLFS together and deliver another outstanding event.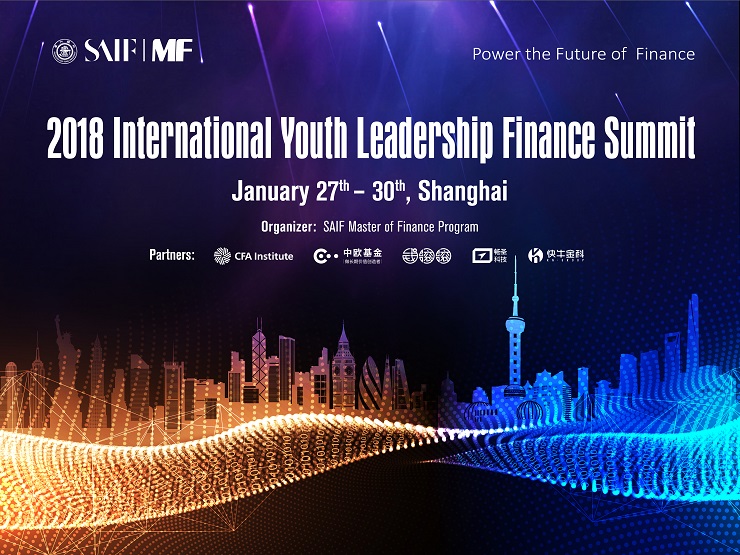 IYLFS is conducted by Master of Finance (MF) Program of Shanghai Advanced Institute of Finance (SAIF) at Shanghai Jiao Tong University. It aims to provide an interaction and learning platform for outstanding undergraduate students, as well as to cultivate their leadership, communication and organizational skills. At the same time, students will have the opportunity to interact with industry leaders face to face.
Five summits have been successfully held since 2013, during which 599 carefully selected undergraduate students from over 40 top universities worldwide participated in the event. Students who attend the summit were mainly from Shanghai Jiao Tong University, Fudan University, Tsinghua University, Peking University, Zhejiang University, University of Science and Technology of China, the Chinese University of Hong Kong, National Chengchi University Nanyang Technological University, the London School of Economics and Political Science(LSE), Massachusetts Institute of Technology(MIT), Princeton University, Cornell University, Columbia University and so on. Senior executives from world renowned companies have been the competition judges. In the past five years, more than 20 senior executives from companies including Standard Chartered Bank, CFA China, SPD bank, Orient Securities, Haitong Securities, Shanghai Futures Exchange, SPD Silicon Valley Bank and other well-known finance companies attended the summit. 46 media outlets reported on the summit which included CNB, National Finance News, China Daily, and Net Ease along with many others.

On behalf of SAIF MF program, we hereby officially invite you to join 2018 IYLFS! Participants always find themselves gaining valuable network contacts as well as friendship throughout the summit.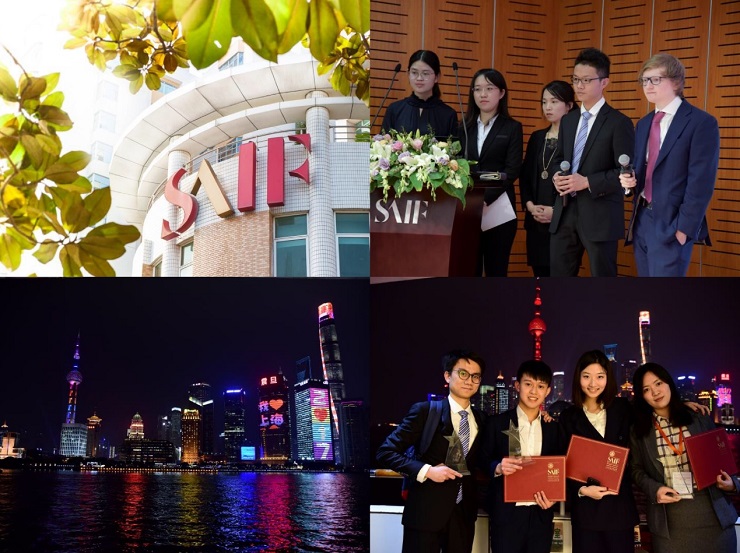 Schedule:
Time: Jan 27th–30th, 2018(GMT +8)
Venue: Shanghai Advanced Institute of Finance (No. 211 West Huaihai Road, Shanghai, 200030, China)
Agenda:
| | | |
| --- | --- | --- |
| Day | Date | Content |
| 1 | January 27th | Registration and Opening Ceremony |
| 2 | January 28th | Mini Lectures, Workshops by Professor and Industry Leaders |
| 3 | January 29th | Team Campaign Day 1 |
| 4 | January 30th | Team Campaign Day 2 and Awards Dinner |
Language: The official language of the IYLFS is English.
Awards for 2018 IYLFS:
• The IYLFS winning team will receive a huge cash prize.
• All teams participating in IYLFS will receive competition prizes.
• Each attendee will receive a summit participation package.
• SAIF MF will arrange accommodation for participants from Jan 27th to Jan 30th, 2018.
Admissions Process
Step 1 – Online Application
Applications for the SAIF MF 2018 IYLFS must be summited electronically by 30 November 2017 via the SAIF MF online application portal at:
http://regonline.saif.sjtu.edu.cn/apply/mf/2018iylfs
Step 2 – Application Result
SAIF MF will notice applicants the application results, assign teams and topics by 15 December 2017
Criteria
Decisions will be made based on the following merits:
Undergraduate academic performance
Demonstrated language/communication skills
Other academic/professional credentials or certifications
Description/video on interested topics
SAIF MF will then follow up with each invited student on preparation and logistic issues.
For business cooperation, please contact:
Ms. Yaya Cang Tel: +86 21 62932141
About SAIF MF:
The Shanghai Advanced Institute of Finance (SAIF) was established by the Shanghai Municipal Government at Shanghai Jiao Tong University in April 2009. Its mission is to become a world class institute of research and higher learning with world class faculty. SAIF is committed to developing top talents for the financial world and to generate cutting-edge knowledge in financial theories and applications. In February 2016, SAIF became one of the youngest business schools to be accredited by the Association to Advance Collegiate Schools of Business International (AACSB).
The Master of Finance (MF) program has been the flagship program at SAIF since it first matriculated students in 2009. In 2017, the SAIF MF program made a strong debut in the Financial Times' annual ranking of the best MF programs in the world, ranking 1st in Asia and 14th in the world. In terms of Salary Increase and Value for Money, SAIF MF program ranked 1st in Asia. Currently, SAIF MF stands as one of the most prestigious finance programs in Asia.
2017 IYLFS Overview: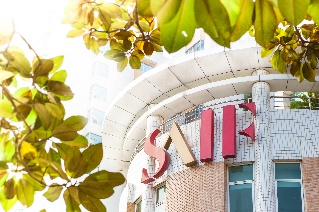 For 2017 IYLFS, 83 outstanding students from 34 top universities all over the world have been well selected to attend the final competition in January. Participants from 19 top universities from Europe, North America and East Asia, and 15 schools from Chinese C9 and 985 universities have been randomly divided into groups with assigned topics three weeks before final competition. Students from Princeton University, Cornell University, Columbia University, University of Toronto and University of Waterloo, and other Ivy League or well-known universities took active participate in 2017 IYFLS. Insightful discussions have been delivered on topics under the subjects of the Future in Capital Market and Global Changes and Macroeconomics. All teams presented unprecedented levels of deep fundamental knowledge, innovations, coverage of modern market trends and both analytical and presentation skills. The time constraints and remote communication provide a good opportunity for all participants to improve their leadership and organization skills.
Contact Us:
Email: mf.summit@saif.sjtu.edu.cn
Tel: +86 21 62934968
Address: No. 211 West Huaihai Road, Shanghai, 200030, P.R.China
WeChat: SAIF-MF
Facebook: Saifermaster
http://mf.saif.sjtu.edu.cn